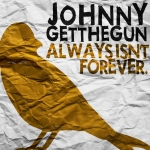 Formed in 2007, Johnny Get The Gun have finally released their debut full-length album 'Always Isn't Forever,' a big, fun, rock and punk pop fuelled album sure to gain them a faithful following.
Although the album starts out at a slower pace with 'If Only You Could See Us Now', the band doesn't hold anything back. Lead vocalist Wayne Lighthowler has an extremely likeable voice that can slip from a powerful rock voice like on 'Out of Control', to a soulful sexy one like in 'A Long Night'. This ability to change effortlessly into slightly different genres also applies to the guitar, drums, and bass, which rock hard on 'Crash and Burn' and bring the funk on in 'My Mistake'.
The best song on 'Always Isn't Forever' is 'Why watch So Many People Fall'. This song takes all the great elements of this band and puts them into five minutes of pure fun. There is an edgy, vintage sound to the guitar and drums, with strong dramatic vocals. This song not only shows off the band's absolute talent, but showcases their biggest strength. They are able to toe the line between rock and pop without stepping all the way over to pop. They are able to maintain a rock edge that gives the band more of a mass-appeal, mostly due to their solid instrumental skills and likeable vocals.
It's rare to find a band that waits five years to release a debut album, but it was definitely worth waiting for. So many new bands jump the gun and try to get a release out as soon as possible, but it seems like Jonny Get The Gun waited until they knew they were ready. They bring rock, pop, and punk together in a fun, high-energy album with huge melodies and crazy-catchy hooks. 
Johnny Get The Gun isn't a new band, but this new album should gain them a whole new following. If they get the exposure they deserve, they could be a huge band to look for in the coming year. Bands that aren't afraid to take their time when writing and producing music generally produce high-quality music, and 'Always Isn't Forever' proves this. 
4/5
'Always Isn't Forever' by Johnny Get The Gun is available now as a free download here.
Johnny Get The Gun links: Facebook|Twitter
Words by Jenny Gagas