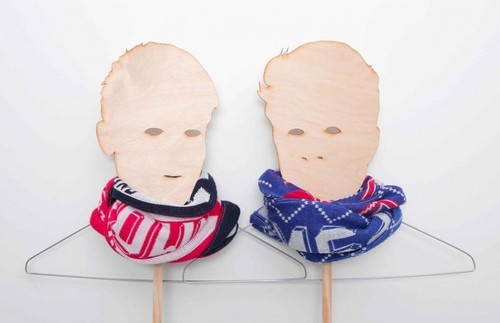 Three songs. Eight minutes. Riffs.
Oh, so you want more words about it than that? Go on then.
JOHN are a London-based duo, and both of them are called John. This is their debut EP, and it is also called 'JOHN', as they aren't quite ready to let go of their eponymous naming convention yet. Sounding like a glorious mix of Mclusky, Pulled Apart By Horses and fellow duos such as Winnebago Deal and That Fucking Tank, this effort produces the kind of hypnotic heavy riffage set to ring around your head for days, and get heads nodding in the live arena.
Opener 'Homme D'Affaires' gets things off to a flying start with a nagging, insistent beat and drummer John Newton's hoarse howl compliments John Healey's raucous guitarring perfectly. The basis of this is so simple yet so effective; 'Big Game Tactics' displays the kind of rigid "robot-rock" Josh Homme would once fetishise, but contains the kind of infectious catchiness that music this raw can so rarely capture. This song created a small furore online when tweeted about by "Spaced" star Simon Pegg, but personally I didn't see hot the fuzz was all about.
Finale '+' – yes, they have a song title that is a "plus sign", and yes, apparently their aim is to be the most un-Googleable band on the planet since nu-metallers 'A', continues the same high standard displayed throughout this EP, creating a devastating racket and sounding like they're having a wonderful time doing so. This isn't a record made to wow and inspire awe in technical theatrics, this is meant to get you out to see them live, and having experienced them myself on a few occasions this year, it's a gem of a set indeed. Whether further releases can uncover more depth to JOHN remains to be seen, but for now, this is an apt document of one of the most exciting and enjoyable new bands around. There are few better things I can think of to do with a spare 10 minutes – give this a spin. You won't be sorry.
4/5
'JOHN' EP by JOHN is out now on Brain Wave.
Words by Ollie Connors (@olliexcore)