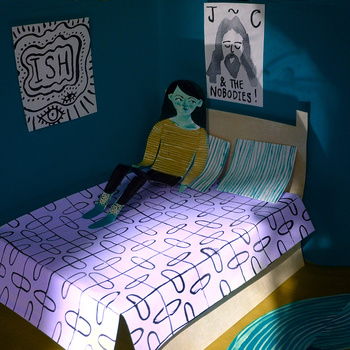 Since Crywank has now become a full band project, James Clayton has busied himself with a new side project in the form of JC and The Nobodies, with the album 'ish'. This anti-folk/emo project takes on the theme of "feeling like an inconvenience" and the inner monologue surrounding this.
The album opens to an acoustic guitar with slow and gentle strums reflecting the relinquished attitude. The dual vocals however give a warm presence to the song showing a mature writing style by Clayton. It gives depth to the voice that it is not alone, a voice that achieves greater focus than the minimalist guitar allowing focus upon lyrics; "it's a guilt trip to know me". The song comes in at just under two minutes, giving it the authentic feel of a passing thought process or frequent occurrence.
The track 'Treehorn' follows later in the album opening with two notes being picked on an acoustic guitar heavy with reverb. Wavering high pitched vocals then break the calm whilst a muffled voice repeats inaudible words again and again. This song highlights the more experimental elements of the work, as it progresses more elements are brought in with different voices and synthesisers. The song fades and stutters out removing the elements quite suddenly, disrupting the repetition of a dark song, leaving us no form of closure.
My favourite track of 'ish' is 'Michael Jackson'. Opening with a very catchy chord progression with both reverb and the natural sounds of an electric guitar, it has an authentically raw sound; the chord progression has a very Deftones-esque feel to it. The monotone vocals begin using the death of Michael Jackson as something of an attainment, to "be like him" and "rest in peace". There is the stark contrast in the description of Jackson 5 feel good hit 'ABC' and its contribution to a lack of sleep and the death of Michael Jackson. This gives a detailed insight to the sad situation that the songs voice had found them self in and concise construction on Clayton's part.
JC and The Nobodies is an intimate side project by James Clayton. The recording being undertaken in a bedroom environment without over production gives the album a feeling of intimacy and you can feel the raw emotion. Clayton's improving song writing ability is also proven with this album and its high calibre of tracks.
4/5
'ish' by JC and The Nobodies is out now on Worst Day Of Your Life Records.
JC and The Nobodies links: Website|Bandcamp
Words by George Isaacs (@TryGeorgeIsaacs)