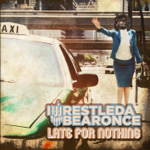 Los Angeles based metalcore/grindcore/mathcore/corecore band IWRESTLEDABEARONCE have been knocking about for a few years now. Relocating about the States and occasionally switching members – new album 'Late For Nothing', for example,is the first album featuring Courtney LaPlante as a full time member after replacing the pregnant Krysta Cameron during the 2012 Warped Tour. LaPlante's vocals are an excellent addition to the lineup but unfortunately other than thatit's another IWABO album that sits comfortably above the average fair of its scene without really bringing anything spectacularly new to the table.
Over the course of twelve songs and around 38 minutes the five-piece move through massive good fun highs and notably smaller, less enthusing lows – often within the tracks themselves. Opener, 'Thunder Chunky' begins interestingly enough with dual vocals and a sweet melody and ends on a much heavier, no less solid, chunk of what people have come to expect from the band. It's the sadly generic breakdowns that fill in some of the gaps between the let the song down. Just when you think you're away and looking at a group of people who'll cut the fat and keep things fresh, there it is again. Chug. Chug. Chug.
Sometimes IWABO really do mix it up. 'Mind The Gap' provides an atmospheric interlude bang in the middle of the record. In fact, the entire mid-section of 'Late For Nothing' is strong, LaPlante's vocals bringing an extra level above the fantastic (if at times uninspired) instrumental work. It rarely, if ever, hits a truly great stride though. Every time it seems as though the album is going to step up and really go somewhere special it stops shy, always peaking a little too soon and by the end it's a little boring. The screams beneath the lead vocal rarely have the impact that they had early on – 'Inside Job' is an exception – and by the time the blastbeats of closing track 'It Don't Make Me No Nevermind' fall away to more downtuned chuggery, the mark is clearly visible, yet still hangs frustratingly out of reach.
3.5/5
'Late For Nothing' by IWRESTLEDABEARONCE is released on 12th August on Century Media.
IWRESTLEDABEARONCE links: Website|Facebook|Twitter
Words by Tom Knott (@nounandthenouns)