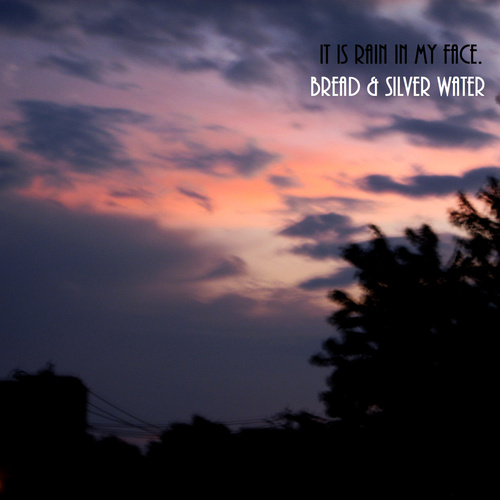 The Brooklyn, NY based artist, Mat Jones, otherwise known as It Is Rain In My Face, has delivered a new and somewhat refreshing batch of songs. If you're into electronic music with a tinge of spacey vibes, you're going to love this one.
The new record, 'Bread & Silver Water' is Jones' first release on Little League Records, who have released the album both digitally and on cassette through their Bandcamp (link below). The record is more like looking at an intricate painting on a wall in a dingy art gallery, as you try to figure out the person behind the ideas and what they're trying to convey. Jones' mind was on the right track from the start, or so it seems, when he chose the moniker (It Is Rain In My Face) to tag to his own take on the genre, because that's almost exactly what it feels like as you listening through the record. The song that caught my ear the most is titled 'Blown Out'. This song could easily be the soundtrack for anyone out on a late drive during a rainy summer night. The track is soaked in a nice reverb that feels as if it's reached out to take hold of you and puts you through a very chilled, almost all encompassing vibe from start to finish then is immediately followed by another interesting track called 'Time in the Morning'. This song is a complete 180, and at the perfect timing being the sixth track in on a ten song album. It really catches you off guard at first then sends you right on back to the sound you started to adjust to in the beginning.
Bread & Silver Water by It Is Rain In My Face
The music here is really interesting. Mat Jones' style has been referred to as "kaleidoscopic" and it's clear to me after listening, why someone would suggest such a rare description. The sound is very similar to the vibe of Neon Indian which also appears to be an often used, but extremely accurate comparison. Vocally, there isn't much melody or lyrical content. It's all very atmospheric and almost like being put in an electronic trance rather than being pulled into a big sing along chorus or a catchy verse. If you can fathom the music of the band Metric finding it's place in a jam session with the guys of Coldplay and possibly a few stragglers from a folk band from deep in the mountains of Colorado, then you can imagine the feel of 'Bread & Silver Water'. Sound crazy? That's because it is, and it works for the record, and it works for Mat Jones.
For what it is, it's great. I'm not the biggest electronic music fan, but I'm a fan of anyone who passionately incorporates all styles of music in their own songs and makes it something unlike anything else that you can obtain so easily these days. Jones definitely lives up to the expectations given off by the stage name, to the album title and the online bio. It's the perfect record to put on and relax to. Maybe go for a long drive, or have a drink at home and give it a listen. It's definitely a record for the open minded, and if there's anyone out in the streets of Brooklyn with an open mind towards music, it's Mat Jones and the proof is in these ten songs that make up 'Bread & Silver Water'.
3/5
'Bread & Silver Water' by It Is Rain in My Face is out now on Little League Records.
It Is Rain in My Face links: Facebook
Words by Tom Kunzman (@TomKunzman)