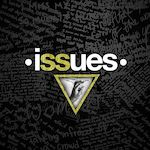 For some, the debut full-length from US metalcore act Issues has been a longtime coming. Since the release of 'Black Diamonds' in late 2012, they've been sharpening their brand of R&B-influenced metalcore with tours alongside Bring Me the Horizon and Of Mice & Men as well as spending time on last years US Vans Warped Tour. With all that been and gone, 'Issues' is set to see the light of day later this month, and from the outset, 'Sad Ghost' delivers with a mix of crunching guitars and turntable scratching courtesy of DJ Scout. Structurally the unclean/clean vocals from Michael Bohn and ever-impressive Tyler Carter respectively isn't anything unusual, but nevertheless it sets out a strong template for the remainder of the record.
Much like the band's 'Black Diamonds' EP, the vocal talents of Tyler Carter takes centre stage throughout; on 'Mad at Myself', Carter's voice is smooth and its clear he can hold a tune by himself as Bohn takes a back seat. Yet on 'The Langdon House', Bohm redeems himself in the verse before Carter takes over with a playful melody although the rap-like middle is perhaps a step too far.
As a metalcore record, Issues has a lot going for them. Songs like 'Stingray Affliction', 'Personality Cult' and 'The Settlement' are thoroughly heavy with pummelling drums and sharp riffs, whilst the electronic elements add an extra dimension to the bands sound. Carter and company's ability to incorporate elements from outside the metalcore box are welcomed, and somewhat breathe new life into the ailing genre.
One characteristic that hinders 'Issues' is the over-produced tracks like 'Late' with clearly auto-tone vocals, and despite its upbeat chorus, you have to question if its needed especially with Carter's confident vocals.
Ultimately 'Issues' is a strong debut and a welcomed addition to the metalcore genre. Although the usual traits of breakdowns and aggressive vocals appear throughout, the pop sensibilities of Tyler Carter adds a sense of accessibility to the bands style as do the subtle use of electronica. Unfortunately its downfall comes in the form of the slightly expected song structure that the metalcore genre is known for, and when combined with a few over-produced tracks and a lack of definite standout track, you're left with an impressive, but somehow underwhelming record.
3/5
'Issues' by Issues is released on 17th February on Velocity/Rise Records.
Issues links: Website|Facebook|Twitter
Words by Sean Reid (@SeanReid86)