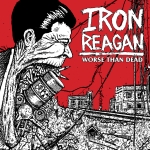 Iron Reagan; an apt name for a band who is influenced by a sound whose roots belong to the 80s. Featuring current members of Municipal Waste and former members of Darkest Hour, Iron Reagan play super charged hardcore influenced thrash metal. Whilst the band isn't worlds apart from the members' other projects, there is a fantastic energy present on this record; the following should explain why.
'Worse Than Dead' features nineteen tracks that barely reach the two minute mark and consistently keep up a theme of full speed ahead. Tony Foresta's snotty vocals keep up with the slickly raw guitar and bass alongside slamming drums. It's a simple formula but it menacingly delivers to the most sensitive points of the nervous system. Without repeating itself on each track, there are moments that help to keep things interesting without slowing down the momentum. Whether it's the gang vocals on 'Eyes Piss Tears', the squealing solo on 'Cycle of Violence' or the slow build up on 'Paycheck', the band  never reaches the boring borderline.
Overall, although the debut full length from this mob of hardcore spirited metalheads isn't original in the slightest and goes over an old formula, Iron Reagan bring enough passion and enjoyment that it makes a consistently fun record. 'Worse than Dead' is sure to get the circle pits going at house parties and make the punks and metalheads go into a frenzy, 24 minutes in the making.
4/5
'Worse Than Dead' by Iron Reagan is out now on Magic Bullet and A389 Records.
Iron Reagan links: Facebook|Bandcamp
Words by Aaron Lohan (@ooran_loohan)