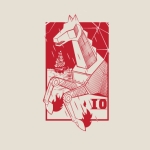 IO are proof of the UK's excellent music scene. Every now and then, a band come along and really make you take notice of what's going on. The band blend post rock, metal and maybe even a little screamo into their epic compositions, most stretching out to the eight minute mark, its intelligent music, it requires effort on the listeners part, but that's what really makes it shine.
Formed in Birmingham in 2006, IO have been slowly plugging away, honing their live show and releasing two records to acclaim previously; 'itwaslostinthefirewestarted' and 'Materioptikon,' both well worth looking into. However we are here to talk about IO's third record.
<a href="http://iomusic.bandcamp.com/album/our-disintegrating-museum" data-mce-href="http://iomusic.bandcamp.com/album/our-disintegrating-museum">Our Disintegrating Museum by io</a>
'Our Disintegrating Museum' is IO's latest release, and for a person who has never heard the band before I felt it really worked as an introduction to the band. Opener 'The Lost Cosmonaut' showcases the bands musical talent, it has all you could ask for; a huge sounding instrumental section, furious screams and most of all, a great sense of melody. 'The Cisco Kid' has a dark sounding introduction that continues to build before the crushingly heavy guitars kick in, then it changes again. It demands attention from the listener. IO are simply not to be listened to as background music. 'Vultures Of The Arctic' is my favourite track on 'Our Disintegrating Museum'. At nine minutes long it's certainly the longest on offer here, but that really doesn't matter when it holds your attention so well, it builds great riff on top of great riff, slowly working towards it's climax which echoes bands like Envy.
'Horse For A Particular Course' is another great track, and whilst it is only meant to serve as an interlude, I found myself wishing it stretched out for longer, it shows the skill of the musicians in IO and just begged to be made into a full track. It breaks to give way to the raging vocals of 'Voyage Of The Alecton'. The finale of the record hammers itself along, before calming to give a brief interlude, its a welcome break from the storm, the soundscape rises and falls in epic fashion before the vocals return over the top of it, giving IO the absolutely massive sound that they excel at.
Overall what IO have done here on 'Our Disintegrating Museum' is display a great amount of skill, the songs all flow so well between each other, and give the sense of one cohesive piece of music, rather than split into 6 tracks. At 40 minutes for a 6 track release this may push things for a few less patient listeners, those who demand instant gratification especially, but I promise if you let IO build the tracks, it really doe pay off to listen to the full record in one go. In closing, IO have a great release here, one that prompted me to delve into their back catalogue. It's not for everyone but I would urge you to keep an eye open for the band this year. They deserve all the success 'Our Disintegrating Museum' should bring them.
4/5
'Our Disintegrating Museum' by IO is out now on Grammatical Records.
IO links: Official Website|Facebook|Twitter|Bandcamp
Words by Ryan Clayton (@clayton_ryan)