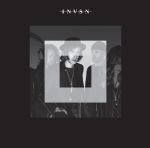 Dennis Lyxzen is best known as the frontman of legendary Swedish punks Refused. That however is just the tip of Lyxzen's fairly vast musical iceberg, having been part of quite a number of bands in his homeland alongside his rather better known main gig. Now Lyxzen has decided to give one of these bands a crack on the international stage.
The newly christened INVSN (pronounced Invasion, and shortened from the Swedish spelling of the name for international audiences) are preparing to release their self-titled debut album, and their first release recorded in English. Those familiar with Lyxzen's previous work will no doubt be expecting full blooded punk rock. Nope sorry, guess again. Instead it's a distinctly noir feeling modern indie electro take on classic eighties synth pop.
As a child of the (late) eighties with slight emo leanings, there is probably a small part of me that should instantly love this. Unfortunately if there is it isn't showing itself all that well. Possibly part of the problem lies with the fact that in recent years the few bands to have had any major success with this kind of sound have been rather dreary, limp wristed and droaning affairs like Editors, Interpol and The XX. It's become almost a natural reaction to expect this to be the norm for the genre. In fairness though, INVSN have created a sound and mood much more purposeful, focused and edgy than any of the above.
The punk background of many of the band members is quite noticeable in the structure and layering of much of the record. Almost every track is constructed around driving prominent bass lines with big angular synth riffs arranged over the top, in much the same way lead guitars and the rhythm sections play off each other on basically every punk song ever written.
The album begins with the moody swirling statico synth riffs of '#61' that gradually builds towards an expected huge final chorus that never materializes, creating a sense of anti-climax before things have really begun. Thankfully business picks up in the form of 'Down In The Shadows', which sounds like a more uptempo and accessible take on Interpol's dark scuzzy synth-pop. While 'Our Blood' finally see's Lyxzen let rip with an impassioned roar over near frenetic angular synth riffs in a definite early stand out moment.
'Inheritance' gives more than a passing nod to classic acts like The Cure and Flock Of Seagulls in one of the album's best moments, a slow burning electro ballad that builds and sweeps really quite nicely. As well as at times, unexpectedly bringing to mind a more muted version of Blink 182's 'Always'.
'It's All Coming Back' and 'Distorted Heartbeat' provide much the same before 'Hate' eases things to a slower, more downbeat and low key and overly drawn out finale.
Overall 'INVSN' comes across much more strongly then brooding indie-synth pop probably has any right to. That said it is unlikely to be majorly appealing to fans of Lyxzen's previous work and will struggle to attract attention from those already devoted to some of the more widely exposed acts mentioned above.
The band are listenable enough, but at no point really grab the attention or feelings of the listener in a meaningful enough way to create any kind of real connection. If you're looking to expand your musical tastes away from more typical punk and rock acts into the electro realm then this could be a solid if not very memorable starting point.
3/5
'INVSN' by INVSNout now on Essential Music/ Razor and Tie
INVSN links: Website|Facebook|Twitter
Words by Dane Wright (@MrDaneWright)