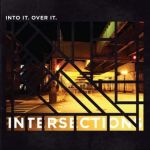 Consistency from an individual such as Evan Weiss (the man behind the Into It. Over It.) is a bold and momentous feat. Lightning has been struck for another time with the release of new album 'Intersections'. This sophomore studio album is an absorbing journey of a golden melodious quality. Let this reviewer strip this summary into further analytical explanation.
The change from previous album 'Proper' to now, sees Weiss honing the delivery and smoothing the scrappiness of his talent in style, tone and production. All of the sounds and notes that pour out from the speakers dazzle in an indie rock/emo glow that is soft, slick and comforting. This is a record that makes you want to lock yourself in the room, get comfortable lying on your bed sheets and basking in its warm glow.
Highlights are a plenty as you whisk upon this bright enjoyable haze. 'Spinning Thread' twinkles on one side in ambient keys and an acoustically ridden melody on the other. 'No Amount of Sound' locks one into a wall to wall confinement of slowcore. 'Upstate Blues' just wells up in the motions of fuzzy indie rock.

Another focal point that must be mentioned that reflects the resounding musical quality on display is 'The Shaking of Leaves'. The calm resilient atmosphere just builds then rumbles towards the end, whilst the whimsical guitar pattern rings in your ear with satisfying results. This is certainly a good point for me to bridge the point of the musical qualities to the lyrics. 'The Shaking of Leaves' is a continuation of the theme found on 'Proper's 'Connecticut Steps'. It reflects Weiss' emotional process during the murder of his friend Mitch Dubey, a musician from New Haven. It's hauntingly powerful and certainly ties into the overall theme of this record.
From this reviewer's perspective, the theme of this record seems to be a personal reflection of new beginnings and emotional/social weights that ponder the mind. The need for a new beginning can be reflected on opener 'New North-Side Air', whilst an example of the latter can be simply understood in 'A Curse Worth Believing'.
On the whole, Evan Weiss has continued the consistent full swing in delivering a charming and passionately fulfilling record. It hones his indie rock style in a warm aspiring glow that places one in the most comforting and reflective mind set. Thematically Weiss puts his tales and feelings from experience to thought to pen to music in a compelling transition. This is certainly one of the highlights of the year for sure.
4/5
'Intersections' by Into It. Over It. is available out now on Big Scary Monsters.
Into It. Over It. links: Facebook|Twitter|Website
Words by Aaron Lohan (@ooran_loohan)