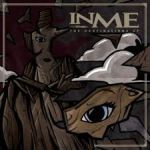 It's impossible to hear the mention of InMe without thinking back to the days of 'Underdose' and 'Firefly', when the baby faced Essex lads were stinking up the Kerrang! channel and dear old MTV2 on a regular basis. McPherson's gravelly, nasal, self pitying vocals and a smattering of scooped-to-hell guitar nonsense felt like a culminative swig from the dregs of the nu-metal pint glass. Safe to say, the 13 year old me wasn't a fan.
Flash forward to the present and they're still here. Their fifth album, 'The Pride', demanded praise from fans and critics alike back in 2012, and now straight off the back of their recent UK live dates, InMe are set to release their new EP 'The Destinations'. As admitted, it's been 12 years since I've checked in with this band and it certainly makes for an interesting, and at times, humbling juxtaposition.
Opener 'Pelorus Jack' definitely makes no promise to blow your bottom jaw off in sheer awe, but amidst the braid of Killswitch Engage-lite riffs and surprising vocal tekkers from McPherson, there are a few moments that glimmer. 'Anthemusa' is a dark and different beast. "What's left of me, I'll give to you", seethes McPherson adrift a bed of foreboding guitar lines and a satisfyingly sparse drum groove. The track quickly finds its pace in an energetic chorus and a climatic guitar solo that ably straddles the line of virtuosity without becoming distasteful or indulgent.
The beginnings of 'Driftwood Figurines' could very well be InMe's take of Periphery's sophomore efforts. It is however this song's anti-chorus and McPherson's unnervingly sweet delivery of "let's blow them to smithereens" that grants it a real allure. Finally, we're given an acoustic slow burner that leans curiously towards Floyd territory in its unveiling. 'Beached Whales' feels like an odd choice of finisher but still has its merits, including some applaudable vocal work from McPherson yet again.
With a particular nod to the one-two punch of tracks 2 and 3, it's a very good EP they've crafted here. A release that in its caliber makes it a little clearer as to why InMe are establishing a veterancy in the alt metal sphere where so many others of similar beginnings have burnt out. 'Overgrown Eden' it isn't, and if you're of like mind, that's anything but a bad thing.
3/5
'The Destinations' EP by InMe is out now.
Words by Joe Danher