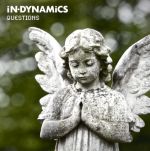 In the continued prosperity of South Coast city Brighton as a fertile ground for bands, In Dynamics are the next in line from a seemingly endless conveyor belt. The trio here follow up last year's initiative offering 'Circle' with four-tracker 'Questions', a title that reflects the existential lyrics that In Dynamics frontman Beau Bolden brings to the plate. The band mirror their Scotch heroes Biffy Clyro both stylistically and in their membership – Bolden sings and plays guitar alongside a fraternal bass and drum duo of Jack and Will Wrench, much like Simon Neil fronts a supporting cast of the Johnston twins, Ben and James. ID have taken the latter-day aesthetics of Biffy Clyro, and like Arcane Roots, have married it to a sprawling, widescreen sound, alongside the very man who produced the aforementioned Arcane Roots' recent full-length 'Blood And Chemistry', Chris Coulter.
The main issue with 'Blood And Chemistry' was that it too often fell victim to its own ambition, whereas here In Dynamics have set out their stall by crafting a concise statement of their progression as a band – it takes steps forward from previous output without attempting to leap into territory beyond their reach; while this shows potential, it isn't quite ready for the stratosphere yet. In Dynamics demonstrate their keenness to show their capabilities from the get-go with 'The House', where Beau Bolden's opening vocal certainly catches the attention, if only because one might believe one has put on a City And Colour record by accident. The song then transforms into a funk-flavoured riffy number, bursting into life with a soaring chorus that packs plenty of punch, providing a memorable beginning to the EP. However, after commencing so effectively, unfortunately ID have difficulty creating anything as memorable throughout the rest of the record.
While songs like 'Waking Life' aren't necessarily awful, it's difficult to shower it with praise when the most you can take from it is that in the first line of lyrics it sounds a lot like Bolden is singing "Give me my toast" rather than "dose". 'Grace' does end proceedings on a high note with its occasional angular stabs of guitar and sugar-sweet melodies, it lacks the meatier undertones the aforementioned lyrical themes demand; this vein of "prog-pop" sometimes demands something rawer, but its sanitised nature means this record plays out with a whimper rather than a bang. The Brightonians evidently wish to follow a similar career trajectory to Arcane Roots, but the problem is this lacks thecojones shown on a record like 'Left Fire' – while it's a perfectly pleasant record to listen to, it fails to bare its teeth once. These talented lads obviously have the technical chops to succeed, but these songs are crying out for a bit of grit and character – while Coulter's production does allow In Dynamics to shimmer and shine in places, overall it feels a rather neutered affair. Not a terrible record by any means, but if you switched off as soon as comparisons to latter-day Biffy were made, this certainly will not be the release for you.
3/5
'Questions' by In Dynamics is released on 10th March.
In Dynamics links: Facebook|Twitter|Bandcamp
Words by Ollie Connors (@olliexcore)