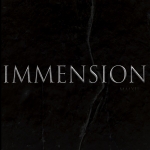 After various line-up changes and numerous live gigs around the country, the Sheffield born mob Immension have released this short three track self titled EP.
First track up is 'Shadows Of Yourself', fast guitar tapping starts the song off leading into a barrage of quickfire lead guitar parts with some fast paced double bass. Frontman Jake Kearsley chooses to sing throughout the song with the odd scream which is surprising for a metal band. Soon enough guitar solos come flying in, played with precision they sound quite impressive.
'Lost & Forgotten' is up next which starts with some heavy guitar riffs, whilst double bass drums back up the intricate guitar work. Some guitar solos come in near the end and show off the talent of the band.
Last song of this short EP is 'Invain' with a slow clean guitar intro it lets frontman Jake sing his way through what is some cliché lyrics; "storm is raging inside my head, now I wish that I was dead". The song then goes back and forth from paced guitar riffs to some slow clean guitar parts.
Overall this EP is a little too predictable, the structure on all three songs go along the same path. The main things you notice about this EP is the lead singer and guitar tone sounds like Bullet For My Valentine, and if you were mistaken you'd think you're listening to a BFMV EP. The band will have to work not only on the songs but their sound as well to really standout from the crowd.
2/5
'Immension' EP by Immension is released on January 7th 2013.
Immension links: Official Website|Facebook|Twitter|Youtube
Words by Aaron Wilson (@soundslikeajw).