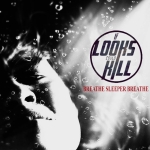 Hailing from Leicester, metalcore outfit If Looks Could Kill are set to release their mini album 'Breathe, Sleeper, Breath.' With metalcore at the forefront of the alternative music scene, the six-piece have a lot of pressure mounted on them to make their mark; will they stand out from the crowd?
Introducing the mini album with a short opening of piano and hushed background vocals, If Looks Could Kill are just laying the foundations for the rest of the record. 'Through Thick & Thin' could have transitioned more smoothly from the introduction, by fading into another gentle opening which would then build into heavier metalcore elements; instead the sextet jumps straight in with screamed vocals and rapid percussion which doesn't seem like a natural progression from the previous track. Nonetheless 'Through Thick & Thin' has an element of power behind it, with infectious choruses plus an admirable breakdown.
'I Bet You Wish I Never Took You To Dinner' features the melodies that If Looks Could Kill seem to execute with ease, also working a good mixture of sung and screamed vocals. Adding a hint of violence during the breakdown with the lyrics "I can promise that I will come for you bitch, I will come for you bitch," the chugged guitars combine to boast a section begging for interaction with the listener.
The structure of the tracks throughout 'Breathe, Sleeper, Breath' are pretty predictable, with the generic metalcore elements reiterated in each track; heavier, screamed verses opposed with softer, sung choruses. There is absolutely nothing wrong with that because let's face it, that's generally what metalcore stands for; however a little more differentiation here and there wouldn't have gone a miss.
'Breathe, Sleeper, Breath' is a commendable release and If Looks Could Kill are certainly worthy of cementing a place in the metalcore scene with this record. Albeit the structure of the tracks is slightly repetitive and a smoother transition from 'Family Feuds' to 'Through Thick & Thin' would have gained the band extra points; however If Looks Could Kill are ones to certainly keep an eye out for because they won't be backing down anytime soon.
3.5/5
'Breathe, Sleeper, Breath' by If Looks Could Kill is available now on Self-Made Records.
If Looks Could Kill links: Facebook|Twitter
Words by Hannah Gillicker