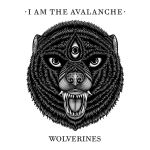 For me Vinnie Caruana has the Midas touch, there isn't a single thing he's released that I've disliked. I grew up on The Movielife, enjoyed his solo EP from last year, and loved the heavier sounds of Peace'd Out. I Am The Avalanche are no exception, and their 2011 self-titled release was one of my favourites of that year. It's safe to say I was really excited to listen to 'Wolverines' and thankfully, it definitely doesn't disappoint.
Opening the album is 'Runaways', a song sung from a (mostly) third-person perspective, an unusual move for I Am The Avalanche. At first I anticipated the rest of the album to be in this style, a collection of observations and personal stories, but second track '177' puts that idea to rest quickly, with a two-minute blast of post-punk similar to I Am The Avalanche tracks of past.
'Wolverines' lacks the catchiness of previous releases, there's no 'Holy Fuck' or 'This One's On Me' to grab your attention, and because of this, it takes up until single 'The Shape I'm In' to really grab my attention. This is the first proper sing-along track on the album and it's super catchy, as is 'Young Keroaucs' the song that proceeds it. Caruana uses rhyming couplets as the basis for his song-writing,  and while this could easily come across as juvenile, his powerful, heartfelt delivery makes lines like, "Young Kerouacs, before it all went black", seem like deep moments of introspective observation. It's a real skill and gives I Am The Avalanche a real driving force behind their music.
There's no shortage of great song writing to be found on 'Wolverines', such as album highlight 'Anna Lee',  which contains the kind of relatable lyrics that you can't help project yourself on such as "You love your fucked up friends even more because they don't pretend to have it figured out", the crux of this song. 'Save Your Name' is similar in a way to 'You've Got Spiders', and boasts a great riff and an emotive sing-along bridge that is sure to become a crowd favourite. The best moment of this album however is closer 'One Last Time', a surprisingly cutting track about the end of a friendship, with a spine-tingling crescendo where Vinnie barks, "Now it's time to think my own fucking thoughts, now I have the keys to my own fucking locks"; it's the kind of track that makes you want to punch the air in support.
Overall, 'Wolverines' is a solid album, with great lyrics and some real sing-along moments. Its only downfall is that it's not as instantly catchy as its predecessors and sadly I suspect this may put people off at first listen. It's worth persevering with however; as this is one of the best-rounded releases I Am The Avalanche has ever produced.
4.5/5
'Wolverines' by I Am the Avalanche is released on 17th March on Rude Records.
I Am The Avalanche links: Website|Facebook|Twitter
Words by Jay Sullivan