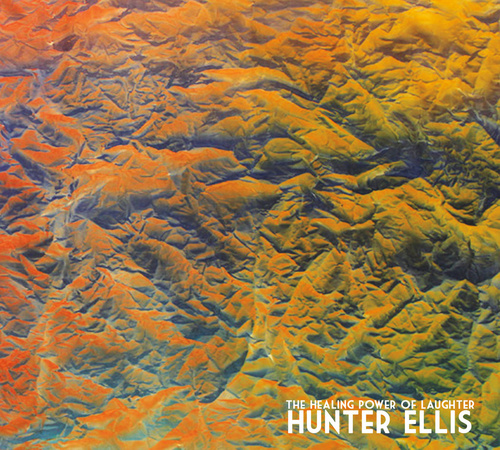 Multi-instrumentalists; I am amazed that such individuals have the skills, the passion, and the capacity, to release albums all of their own making. Are they multi-armed sorcerers from another dimension? I assume so. When the record in question is consistently well made, then you've got the concrete evidence which proves they are other worldly beings. L.A. based instrumental "sorcerer" Hunter Ellis is a fine example of this breed of musician. After spending several years since 2003 with various bands including My Dads, The Coma Lilies and Horders, Ellis started writing 'The Healing Power of Laughing' in 2010, recording it over several years with help from friends and musicians. Now, after several years of hard work, the album has seen the light of day in 2014, and it is an interesting listen of flavoursome marvels.
Ellis successfully blends jazz, progressive structures and folk frailty into a serenely grand soundtrack. Imagine yourself being locked in your own bedroom on a relaxing Sunday afternoon, yet all the while your ears play tricks on you through various musical tinkerings. The opening title track explains everything that is going to happen on this musical journey rather well. Guitar notes pick at your brain and violins sear through a warm aura of bass and drums, creating a wondrous atmosphere. 'Eat Rotten Fruit' ponders itself in mysterious bluesy lounge jazz meets prog ambiance. The full band cover of Aphex Twin's 'Fingerbib' is fleshed out into a real world setting, making it sound endearingly human. A personal highlight is the slow electronic build on 'Master of Your Domain', morphing from digital bubbles to a percussive gold mine.
The Healing Power of Laughter by Hunter Ellis
As an album, 'The Healing Power of Laughing' displays interesting ideas and surprises, keeping you entertained throughout its run. Hunter Ellis appears to have a keen ear for melody and mystery. He uses percussion as the beating heart, whilst stringed instruments form the dazzling outer layer. However, I can't help but feel that this record begins to feel more like a collection of songs, rather than a seamlessly flowing album the more I listen to it. Don't get me wrong, it's a good solid record, brimming with ideas, but it feels like the beginnings for something more. Ellis has yet to reach it, but he's pretty damn close to it, I can assure you of that based on this template.
3.5/5
'The Healing Power of Laughing' by Hunter Ellis is out now on Little League Records.
Hunter Ellis links: Facebook|Bandcamp|Twitter
Words by Aaron Lohan (@ooran_loohan)