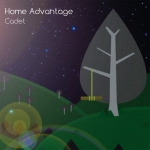 It may yet be the greatest irony that those that sought to "defend" pop-punk may cause the scene to stagnate further. As bands like The Wonder Years, The Story So Far and Man Overboard rule the roost, a wave of copycat bands have begun to emerge; a generic, quotidian movement of affected young adults whining about failed relationships. Thankfully bands like Home Advantage are around to give us a flavour of this genre as it should be – raw, emotive and honest. Début EP 'Cadet' hearkens back to the salad days of Drive-Thru Records and a time when The Movielife and Saves The Day used to rule our hearts, but additionally encompasses modern influences – think Set Your Goals if they took themselves a little more seriously, with a dash of Such Gold.
A quintet hailing from England's capital, Home Advantage hold considerable experience under their belt from various bands (bassist Mike Turner is also a member of melodic hardcore/skate-punks Pacer), and use this to create an accomplished record right from the bat. 'Cadet' is a record created for the live arena – from opener 'Short-Termism,' a vivid picture is created of the adrenaline rush five guys playing music they love, and the passion is encapsulated wonderfully. Different sides of the band are shown here; if we ever get one, 'Youth Theatre' and 'Markers From Home' are ready-made summer anthems, pulsating with energy and panache, whereas 'Ropeswing' deals with more introspective subject matter, and 'Barriers,' the final track on the EP, deals with racism and xenophobia, before shifting a gear into a gargantuan finish, sure to raise a few hairs on the back of necks.
This is a very promising effort, but there remain factors that present room for improvement, predominantly in the vocal of Ross Shroff, who lacks confidence in his sound. Chris Conley of Saves The Day doesn't have the world's greatest voice (this writer has compared it to the sound of a whistling kettle), but he adds such conviction to it, the lack of talent ceases to matter much. This record should see them gain and cement fans amongst pop-punk fans and those that prefer a little more bite alike; after forming just under 2 years ago, Home Advantage will find themselves gaining popularity by doing things strictly old-skool, rather than becoming yet another cliché-ridden facsimile. In a world where half-arsed reunions are ten-a-penny and Vagrant Records is an indie rock label (seriously, look up what they're releasing now), this is a far more welcome throwback to simpler times.
3.5/5
'Cadet' EP by Home Advantage is released on 15th July on Disconnect Disconnect Records.
Home Advantage links: Facebook|Twitter|Bandcamp
Words by Ollie Connors (@olliexcore)