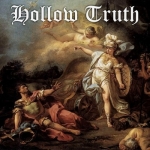 I am prefacing the following by saying I am not a massive fan of thrash metal. Apart from the most obvious examples of the genre, I am grossly under-educated in what constitutes good thrash metal. Despite this, it's not a massive leap of faith to claim that Hollow Truth is not the epitome of a classic thrash band. This EP is the Dublin-based neck-swingers demo, entitled 'The Earth Shook – Demo MMXII'.
The EP is obviously aiming for world domination with what can only be described as a Roman Empire theme, however 'MMXII', which provides the intro to the EP, is rather comical.  It's more 'Life of Brian' than 'Ben Hur', with any perceived attempt at epic musicianship ruined by sampling the TV series Rome in both the opening and closing moments of the EP. 
<a href="http://hollowtruthhc.bandcamp.com/album/the-earth-shook-demo-mmxii" data-mce-href="http://hollowtruthhc.bandcamp.com/album/the-earth-shook-demo-mmxii">The Earth Shook – Demo MMXII by Hollow Truth</a>
The first track proper on the EP is 'He Who Shook The Earth', which is an ultimately listenable (just) yet highly derivative, generic slice of head-banging fare. Also, I know I started this review by claiming a lack of thrash-metal knowledge, but I am reasonably sure there is meant to be some tempo to thrash songs. Both 'He Who Shook The Earth' and its' partners in crime 'The Sisters Of Fate' and 'Terrible Winds' share a terribly plodding and uninspiring pace, with none of the passion or aggression you expect of the genre. In some ways you could say it is genre-defining, but in all the wrong ways. There is some decent production on the record to be fair, with everything sounding technically correct, it's just a shame the end result is something so bland and painful to listen to. 
Mercifully, this EP is all over and done with in ten minutes.  It is bad to the point of almost being funny, with the grand theme falling flat on it's face and coming across almost as some kind of joke. If it was meant as a joke I am missing the punch line unfortunately. I can't find anything particularly uplifting to say about this EP except that it made me want to watch Monty Python's 'Life Of Brian' again. That's a good movie. Go watch that, don't listen to this.
0/5
'The Earth Shook – Demo MMXII' by Hollow Truth is available now on Bandcamp.
Hollow Truth links: Facebook|Tumblr|Bandcamp
Words by Tom White (@whiteywitters)