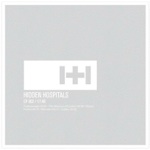 Chicago; it's probably the city with the best music coming out of it right now. It's got great emo, great punk, great indie and recently great hip hop so something must be in the water. Hidden Hospitals are ex-Damiera and it sounds a lot like them too, which for me is amazing. It's a blend of punk and indie rock and it still manages to sound fresh and most of all intelligent. If you wanted comparisons, obviously I would say Damiera, but it also reminds me a little bit of mostly forgotten early 2000's band, Park. It's maybe a bit like Jimmy Eat World too, in places, but comparing it to these guys isn't reviewing the music here.
What Hidden Hospitals do on 'EP 002' is display their skills and knowledge of this kind of music. Building on their previous EP. Lead singer David Raymond said of it in an interview with Krisp magazine, "After absorbing the experience of our first EP ('EP 001') we discovered all of these new sounds that I feel are unique to us as a group. In other words, they wouldn't have surfaced had we not been exposed to each other. 'EP 002' is parallel to this exploration, discovery, and mindful application."
<a href="http://music.hiddenhospitals.com/album/ep-002" data-mce-href="http://music.hiddenhospitals.com/album/ep-002">EP 002 by Hidden Hospitals</a>
Each song on offer here is fresh, yet a continuation of the previous one. It has mellow ones 'Picture Perfect' which is a bit slower than the other tracks, building however, into an absolutely huge chorus. There's a fast track, 'The Absence Of Emotion' which leaves you wanting more. Then there's one of the best songs I have heard this year, 'Monsters', it starts with a picked intro, and vocals, which slowly rise and soar, never too much though, it focuses on the great melodies. It's probably the slowest track but for me it's the standout. It leads perfectly into another fast paced track, record closer 'Lullaby' a brief two minute track which truly evokes memories of Park and Damiera, it's the slightly melancholy lyrics, juxtaposed against the fantastic guitar work, built into this finale that really seals the deal for this record.
Maybe it's just nostalgia for those bands I thought, but the fact that I still listen to them in 2012 shows that it's not, and for a band to be doing this type of thing in 2012 is a great thing. A revival of this sort of music is in the works I hope, it's truly great stuff. For me, the best EP of the year is this. I eagerly await a full length from them.
5/5
'EP 002' by Hidden Hospitals is out now.
Hidden Hospitals links: Website|Facebook|Twitter
Words by Ryan Clayton.