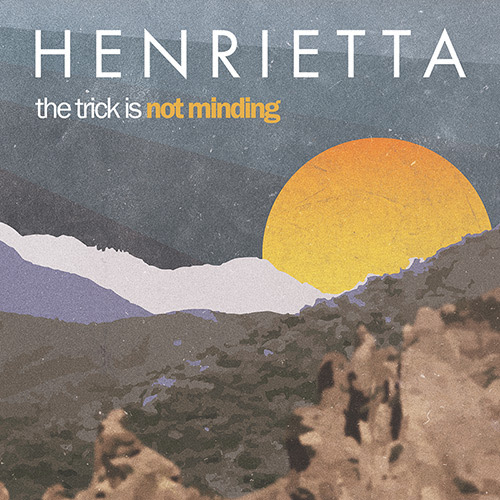 The emo revival which showed its first shoots of existence early in the year has continued apace. The latest act to help raise the banner are Henrietta with their debut full length 'The Trick Is Not Minding', and whilst it may not be to everyone's tastes, it is certainly full of character and has plenty of charm.
The album begins at a slow and gentle pace, which then steadily swells into an expansive and powerful chorus on opening number 'Give Up Kid'. Singer/guitarist Manny Urdaneta has a very unique and recognisable voice , slightly strained but with plenty of heft and a strange kind of lilt to it that sounds almost Scot-influenced, a touch of Biffy Clyro maybe.
The song '2000 Miles' has some lovely, simple and tender instrumental moments on it which showcase the broad nature of the band's sound, operating outside of simple pop-emo. These moments are perfectly poised, not overly pretentious or self-indulgent, but at the same time full of depth and momentum.
The Trick is Not Minding by Henrietta
'Constantinople' has a lovely verse: complex and soaring emo which is full of drama. But this song is also the first to give away the fact that Urdaneta's vocals can occasionally be jarring. Whilst at times they sound lovely, at others their strained nature can become a little overwhelming and even slightly grating.
'A Spectrum' is further evidence of this. During this song it feels like he is trying too hard to make the vocals seem unique and interesting, and instead they become rather dreary, slushy and unenjoyable. This is rather a shame because they are so strong and when harnessed properly they are a wonderful asset. 'Brutus' is a brooding, slow track with no drums and it leans all its weight on the vocals which hold it up admirably.
Henrietta's debut really feels like an album of polarities. At its best it creates some wonderful leaping and luscious sounds that really spring out at you and are irresistible. At its worst it can frustrate and irritate. But the positive moments really do far outweigh the negative ones and overall if you are looking for some epic sounding and uplifting emo to say goodbye to summer with you could do a lot worse.
3/5
'The Trick Is Not Minding' by Henrietta is out now on Animal Style Records.
Henrietta links: Facebook|Twitter
Words by Alex Phelan (@listen_to_alex)