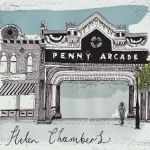 So before I write this review I feel the obligation to qualify it with a statement. I saw Helen Chambers support ONSIND in a pub called The Whitworth in Manchester (now closed down, for shame) maybe three or four years back. Her music was very pleasant to get steadily drunk to and gave everyone present a cosy, happy feeling. She also seemed like a lovely person.
Helen has a got a great voice too. It's got a real classic country vibe to it, and although it betrays her Yorkshire roots, it's also coated with Americana warmth. Her song-writing style is honest and straightforward. Her lyrics are often laden with sadness and yet always carry a silver lining. All the ingredients seem to be in place. And yet despite everything, I cannot enjoy 'Penny Arcade'.
Maybe I've got a black heart, but I actually consider myself a pretty sentimental soul and yet these songs don't make me feel anything. I mean, I'll hold my hands up now and admit I know next to nothing about Country past Dolly Parton and Johnny Cash. That said, I know plenty of bands that have employed the genre in dynamic and provoking ways – but this album is more a tribute to Helen's influences rather than an original work that builds on the foundations of those influences.
I'm sure Helen would say that she is writing music that she loves and it isn't intended to be original or break new ground, and I can totally respect that. There aren't many young British solo country musicians out there, and as I've already mentioned, what she does works well in a live environment, whether that be a punk show or pretty much any other kind of gig.
But to buy a record and take it home with you it's got to stand for something on its own, and to add to your collection rather than just duplication an existing quality of it. I can't be sure that 'Penny Arcade' would achieve that. The structures of the songs are rigid and rarely suggest that much thinking has been done outside of the box, whilst the themes tend to follow well-trodden paths rather offering anything to inspire the soul.
There's no doubt lyrics like "Tomorrow's tomorrow, don't think of it now, but tonight won't you take me to town?" are easy to relate to. But I find relating to music therapeutic because that song understood you before any human being was able to. There's no person in the world who doesn't know that feels better to live for the moment than worry about the future, and so what is this music really telling me?
Uggh, I feel harsh now. Look, I bet you'd have a good time if you put this album on and starred at the fire with a cup of cocoa, or better still a stiff whiskey. Or watched the rain roll down the window, which there's currently plenty of opportunity to do as long as the current climate persists. I really hope it's just me, and that I just can't relate, and that everyone else will think 'Penny Arcade' is fantastic and Helen gets loads of plaudits.
But as things stand I would recommend you go to one of her gigs at the nearest opportunity long before I would suggest you buy this album. 
2/5
'Penny Arcade' by Helen Chambers is out now on Specialist Subject Records.
Helen Chambers links: Facebook|Bandcamp|Twitter
Words by Alex Phelan (@listen_to_alex)