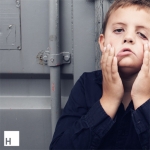 Heights hail from Welwyn Gardens, Hertfordshire, and 'Old Lies for Young Lives' represents the follow-up to one of the best-received hardcore debuts in recent memory. However, the Hertfordshire four-piece (now missing vocalist Thomas Debaere and with bassist Alex Monty taking over screaming duties) manage here to rise to the challenge of matching the critically acclaimed 'Dead Ends' and perhaps even surpassing their debut's efforts.
They are a band with an ear for a riff and a breakdown (probably quite a good thing if you're in a hardcore band) and tracks like opener 'The Best Years' highlight this. A wailing guitar melody cut through the crunching rhythm section, revealing a La Dispute-esque sound that follows through the record. The song travels through several acts before melting seamlessly into 'Eleven Eyes' which functions as the lead single to the album. It features Sam Carter of Architects fame and is easily the catchiest and most accessible song on the album for newcomers to the band (a wise single choice, then.)
'Windowless' is especially seismic and provides the most powerful moment on the album before dying off with a sombre piano outro. It gives the album an added layer of atmospherics and works well at linking the first half with the second half without sounding too stilted or forced.
The second half effectively opens with 'In Transit' and a scuzzy punk riff reminiscent of Placebo. It sounds harsher and more low-fi than a lot of the material on the album, but in a good way. It is also faster paced, with a punkier tinge on this album of primarily modern hardcore. This is followed by 'Stray Rats', a raucous and chaotic affair and one of the many highlights of the album. The vitriol and energy attached to this song is only to clear as Alex Monty screams the song's refrain "stray rats, stay young, never stop."
The album closes with 'Forth/Here,' as powerful as anything else on the album and a worthy, punchy ending to a truly epic and powerful hardcore album. With 'Old Lies for Young Lives,' Heights have delivered an album that not only lives up to the promise of their debut but surpasses it. It is an album that both hardcore aficionados can enjoy, but it also has something for a wider audience to get excited about.
4/5
'Old Lies For Young Lives' by Heights is released on 29th April through Transcend Music.
Heights links: Offical Site|Facebook | Twitter
Words by Tom White.