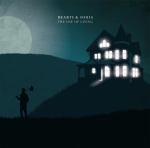 Labelling a band as fitting into the pop-rock involves a certain element of risk, first and foremost because said genre doesn't have the kind of solid, tangible, sonic limits other sub-genres are defined by. It doesn't help that Leeds threesome Hearts & Souls don't appear to have drawn any borders either, which can ultimately only benefit the listener. Moreover, their distinctive brand of pop-rock comes with the highly connoted tag of "female-fronted", of which the most popular examples reveal a growing tendency towards candy-floss rock and rainbow pop. There's none of that on début EP 'The Use Of Living', and all the better for it.
Through assured song-writing (there are some tasty chord progressions at work here) and a taste for vivid imagery, Hearts & Souls provide a fresh piece of moody poppy alt-rock pie with some healthy helpings atmospherics and a sprinkling of steel here and there. Opener 'England's Coldest Waves' takes the slow-burner route, a solitary piano accompanied by Lucinda Livingstone's lower-tone vocals gradually builds-up with military drum rolls before the track smoothly transitions into a measured climax of atmospherics. 'Liquidlung' is a more straightforward pop-rock track that never ventures too far outside of a deliberate shuffle, but there are a handful of noticeable lyrical moments (some for being catchy, others for being quite baffling. The listener will no doubt form his own opinion). 
Following with a somewhat lighter tone, 'Airwaves' treads along the same lines but adds accompanying male vocals, the dual delivery comes off quite successfully during the song's rousing finale. 'Western Chemistry' unleashes their heavier side all cymbals ahoy (albeit in small portions), as a soft one-note-at-a-time guitar shifts purpose as the track's spine and a more restrained background role, guiding the listener through the song.
Closer 'Six-Eight' returns to the slow-burn method but stretches further than 'England's Coldest Waves' towards a triumphant epic finale, encompassing everything the band have proven capable of on the rest of the EP in a satisfying cocktail.
'The Use Of Living' might have benefited from a more reserved 5 tracks with 'Death And Other Subjects' and 'Pulling Teeth' arguably lesser versions of what's on display elsewhere on the track listing, but it's a small complaint that shouldn't take away from what Hearts & Souls do very well: moody atmospheric alt-rock. With enough variety and a refusal to stick to one formula, those peeps from Leeds have signed a great début. 
4/5
'The Use of Living' by Hearts & Souls is released on January 21st.
Hearts & Souls links: Official Website|Facebook|Twitter|Tumblr
Words by James Berclaz-Lewis (@swissbearclaw)