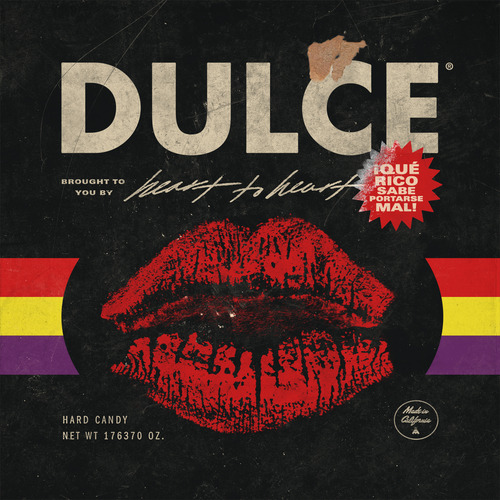 'Dulce' (Spanish for 'sweet') is very sweet indeed. Punk/hardcore quintet Heart to Heart have really delivered a solid album. With their last release being a self-titled E.P in 2012, 'Dulce' has been a highly anticipated release, especially since Heart to Heart signed to Pure Noise Records in 2013. The band's approach is to live in the moment and this is certainly the basis of their lyrics, talking about things that really matter and people can empathise with.
The album opens with building guitars with intermittent bass slides and drums before starting a rolling beat. This abruptly stops to a single fast strumming guitar and we are introduced to the powerful, raw, emotive and growling vocals of Nick Zoppo. This seriously adds weight to the quality of the song, bringing strong emotions to the forefront of the song, while the clean vocals balance this emotion between one of frustration and understanding. The drums create pace with the accompanied guitar throughout the verse before slowing to a chorus; "it takes more to break a home than leaving us alone." The song rings out to spoken voice in reflection addressing an absent father figure. This track creates a very strong first impression for the band and is by far one of the strongest of the album.
Still early into the album, 'Daydream' is another big hitter. Its opening of guitar and vocals gives way to full band, characterised by ringing guitars. The more minimal verse addresses the issue of suicide in what is depicted as the 'final act' and a fascination with "dying to see the other side", both literally and figuratively put by Zoppo. The harmonies complement each other without overdoing it; often subtle, they show how attentive to detail they have been to this album. A powerful breakdown is calmed with more temperate vocals and lone guitar reflecting the isolation and sadness of such a dark issue before coming back to full pace.
The album continues the high calibre of tracks with its penultimate 'Yours Truly, You'. This track has a catchy opening with pacey punk verse and clean vocals. The changing of drum beats is creative and attention grabbing, similarly performed by the guitar. The chorus is the real gem of the track being seriously catchy (ah, that bend and open note) and its drawn out harmonies. The track is led out by a build and angst: "you're a god damn animal!"
'Dulce' is certainly what a band would be aiming for with any debut album. Far away from what is currently dominating the punk market, this is a great album for the scene. Currently on Warped Tour, hopefully Heart to Heart will be able to expand their dedicated fan base, having been waiting for a major break since the EP of 2012. 'Dulce' is nothing short of ground-breaking and hopefully will get the reception it deserves.
5/5
'Dulce' by Heart to Heart is released out now on Pure Noise Records
Heart to Heart links: Website|Facebook|Twitter|Bandcamp
Words by George Isaacs (@TryGeorgeIsaacs)