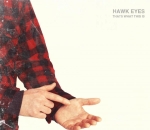 Leeds four-piece rockers Hawk Eyes here give fans just a small taster of what's to come. 'That's What This Is' wavers between hard-rocking and stagnant and dated, and ends up being a confused mix of noise.
This album is made strong by the intricate, multi-layered instruments, complicated riffs and interesting rhythms. The title track starts out with pounding drums that break into melodic riffs and an edgy sound, however it falls flat with boring vocals. The melody isn't compelling, and the lyrics aren't captivating. 'Never Never, Just Not Now,' has a great chorus with a lot going on instrumentally, but it ends up sounding monotonous and overall the song is humdrum.
This seems to be the predominate theme of the EP, but it does break free a bit. 'Cheap' starts out sounding straight out of the 90s, but the chorus breaks in with the punch the record has thus far been missing. It's fun, weird, and loud, with intensity in the vocals that was desperately needed.
Luckily, the album does end on a high note. 'More Than A Million' features metal tinged guitars, bringing the song a heavy, modern sound. The soft vocals and slow melody clash with the heavy instruments, giving it contrast and depth. The whole thing is a bit of a noisy, crazy mess that really works .
Clearly, there are high points on 'That's What This Is,' but it's not strong enough to stand up as an EP. The weaker songs might have gotten lost in a full-length album, but here they're in the spotlight. Hawk Eyes have real talent, but it gets muddled out by dull, uninteresting songwriting.
2/5
'That's What This Is' by Hawk Eyes is released on 19th August through In Our Ear Industries.
Hawk Eyes links: Website|Facebook|Twitter|Tumblr
Words by Jenny Gagas.