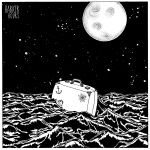 It is always nice when you hear an artist you have been listening to for a few years now reach their full potential and create something fantastic. You get that proud feeling of accomplishment when listening to it. That is the feeling I got when listening to Harker's new EP 'Hours'. I first came across Harker when it was just vocalist Mark Bonifice and his guitar and I loved the rawness and passion that was in his song writing.

Fast forward to 2014 and Harker has now developed into a golden jewel in the UK punk scene. Now playing as a full band it has really rounded of the rough folk-rock sound that the band is going for. It also appears the band have timed the release of this record perfectly, as I can see this EP being many people's sound track to the summer.
Each song on 'Hours' really gives a different side of this band. My personal favourite is 'Somewhere Better' as it reminds me of Hot Water Music and early Polar Bear Club. Harker clearly pay homage to bands that influence them, but it is great to see a British twist on the whole folk-rock genre and done so well. The title track, 'Hours', is Mark going back to where he started with the acoustic guitar, a dominant sound in the background, while the gruffly of his voice sooths over the backing track.
Even though 'Hours' only comes in just under 15 minutes, you will instantly want to listen to it all over again. It is one of those records that make you just smile and nod your head in appreciation of what great musicians have put into writing this music.
If you have never heard of Harker before, I promise you that after one listen of 'Hours', you will be wondering why you hadn't had this in your life before now.
5/5
'Hours' by Harker is out now on Unfun Records.
Harker links: Facebook|Twitter|Tumblr
Words by Tim Birkbeck (@Tim_Birkbeck)