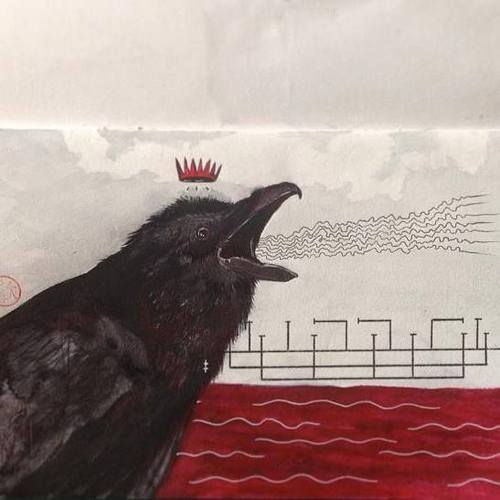 It seems like Hang The Bastard have been around for aeons, but this is only their second full-length album. 'Sex In The Seventh Circle' is a redefining record for HTB; having lost their original vocalist Chris Barling to MINE and following a brief dalliance with Mike Carver (formerly of Leeds hardcore band Deal With It), this album sees bassist Tom Hubbard step up to the plate as vocalist. Formerly a hardcore band with doom/sludge-based aspirations, this is full-on riff worship, in the vein of Down, Crowbar, Eyehategod and the mighty Sabbath. Does the change in pace (i.e. slowed down to a crawl rather than a canter) suit the West Londoners? It's already been stated this is a redefining record, but the definition of Hang The Bastard in 2014 is the best they've ever sounded by quite some stretch.
Let's meet the most potentially divisive aspect of this album head-on first of all; Hubbard's voice. Whereas most in this genre would appoint a vocalist with a gruff, full-throated roar (still present in HTB with the backing vocals of Joe Nally), Hubbard's black metal-influenced screech may put some off, but to these ears, it gives songs like opener 'Keeping Vigil' a nefarious, malevolent edge. Not only are the utterly crushing riffs enough to give you the willies, but the bloke with the mike might just summon Lucifer himself whilst your back's turned. The band are on phenomenal form throughout the early discourse of this record, aided by a tip-top production job by Steve Sears (read his credentials here); from the downtuned melancholia of 'Morrs Tempest' to the groove-laden 'Hornfel', every note sounds crushing, aided by Simon Grubb's monstrous drumming.
The greatest trick that Hang The Bastard have pulled here is making a long album seem constantly dynamic and exciting; at 47 minutes for 11 tracks (two of those are ostensibly interludes), it could drag, but by switching things up between the Sleep-esque fayre of 'The Mystic Gathering Of Goetia' to the expansive psychedelic blues of 'Mists Of Albion' keeps the listener engaged. At 7 minutes, the latter of the aforementioned tracks could be a turn-off point, but Hubbard's reverb-drenched clean vocal and vulnerable lyrical turn becomes an album highlight. From there, the record's eponymous track represents a return to the stomp of 'Keeping Vigil', ensuring the midsection of the album resounds just as triumphantly as its initiative third.
Though one may not find Hang The Bastard on many hardcore bills so much following this album's release, they still have pit-ready tunes in the ilk of 'Absorption', a welcome introduction of a speedier tempo late on in proceedings. 'Beyond The Pale' follows suit in grand style, almost heading into Kvelertak-esque territory, before 'Sweet Mother' wraps things up with a summation of this album's overriding themes; that of creating a caustic, blackened racket and sounding like they're having a hell of a time doing it. A band who have skulked around support slots for most of their career to date, on this evidence Hang The Bastard fully deserve to kick on and be celebrated amongst the doom-heads that populate festivals like Damnation and Temples. Away from the overproduced mainstream-troubling oiks, this is a raw representation of some of the most exciting metal Britain has to offer; undoubtedly, 'Sex In The Seventh Circle' represents a band on top of their game and back with a monumental bang (no pun intended).
4.5/5
'Sex in the Seventh Circle' by Hang the Bastard is out now on Siege of Amida and Century Media.
Hang the Bastard links: Facebook|Twitter
Words by Ollie Connors (@olliexcore)