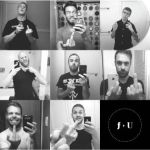 Residing from North Carolina both Handsome Foxes and Unifier bring an energic mix of 90's influenced alternative/indie-rock in the vain of Foo Fighters, mewithoutYou, Brand New, Sunny Day Real Estate and the like, to this short but sweet release.
Both bands have history with sharing members, shows and creative ideas, so the idea of this spilt makes a lot of sense considering their past. The collection of songs showcases the extensive taste and influences that both bands have created, something that sounds contemporary but at the same time familiar.
Still relevantly new and forming in December 2011 Handsome Foxes show no signs of slowing down, even with multiple line-up changes and setbacks they still bring a raw ferocity which is rare in this style of music.  Opener 'You Really Dicked Your Way Into This One' sets off the 3-track effort in an explosive manner with sheering guitars and heavy drum hits. The vocals are a highlight however switching between  mellow spoken to raw shouts as if the events sang about are personalise which adds to the depth.

Having heard of Unifier before (they had covered the Deftones track 'Cherry Waves' which is defiantly worth a download from their site) it was a joy to hear what else this band had to offer. Much like Handsome Foxes the catchy sing-along-vibes of their effort is as much present on this side of the spilt as is Handsome Foxes.
Personal favourite comes in the form of 'Masks' from the intros downtuned guitars to the outrageously infectious hooks in the chorus and the mellow quiet spoken moments, the whole song is overflowing with emotions and has a compelling nostalgic effect of late night drives with best friends.
The only real compliant is that the split as a whole is repetitive in its song structure but this is nitpicking considering how much fun there is present in the 6 songs written.
What's notable about this release is that there isn't overly complicated goings on, just two bands doing what they love while pouring their hearts into it. It's very abundant after a few listens; what makes each respective band unique without trying to blend into the scene with empty song-writing and boring sensibility. Overall a really impressive release and this has summer jams written all over it.
4/5
'F+U Split' by Handsome Foxes / Unifier is out now on Autumn + Colour Records
Handsome Foxes links: Bandcamp|Facebook|Twitter
Unifier links: Website|Facebook|Twitter
Words by Grant Fullick.