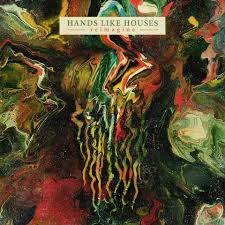 Hands Like Houses are one of Rise Records' most recent success stories, with second album 'Unimagine' hitting the top 40 in the US charts and 6 on the US indie charts. And although the UK is a little behind the curve, this EP, which sees the band change up five of the songs off 'Unimagine', and the associated UK tour in October, gives them another chance to win more friends in ol' Blighty.
However, while Hands Like Houses should be applauded for not taking the easy way out when it comes to reinterpreting their songs – there are no lazy remixes or gentle acoustic versions here –'Reimagine' also suffers from the same problem as its parent album, being horribly sanitised and slickly overproduced. If I was synesthetic it would taste of liquid silver, all glistening and alluring yet ultimately unfulfilling. There's little edge or personality to 'Reimagine', and even though some of the songs benefit from the reworking, you're still left with an ultimately empty feeling.
Opener 'Recollect (Shapeshifters)' is now a funkified Incubus-style blast, rather than the more prosaic straight-up rock of the original, and for the most part is better for it, while both 'Revive (Introduced Species)' and 'Rediscover (No Parallels)' – the two best tracks on offer – are stripped back and percussion-heavy.
Finally, the five-track EP is rounded off with 'Release (A Tale of Outer Suburbia)', which is considerably more haunting than the bombastic original, and 'Reflect (Developments)', which sadly sounds like a ballad on a boyband record.
Ultimately, what you're left with is something that sounds great but is bland and uninspiring; we're talking commoditised rock with mass market appeal. When I think of post-hardcore bands, I think of bands that would leave it all on stage (or in the studio); of bands like Thursday, or more latterly La Dispute, who brim with passion and intensity. With Hands Like Houses this crucial ingredient has been replaced with a glitzy veneer. And it's not for me.
2/5
'Reimagine' EP by Hands Like Houses is out now on Rise Records.
Hands Like Houses links: Facebook|Twitter
Words by Robert Mair (@BobNightMair)/p>