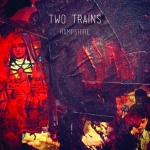 It seems a little strange for an American band to name themselves after a South Coast English county, but given that this quartet hail from Detroit, a little escapism can be forgiven. Following up from 2011 full-length 'Spring, Sit Beside Me', which was a solo venture of vocalist and guitarist Teddy Roberts, Hampshire's new EP 'Two Trains' sees Roberts' sound fleshed out by a full band, and move into territory which is, if not the most original, certainly represents a significant step in the right direction.
Hampshire's predominate line of influence comes from a little further east than Michigan – the sound is very New Jersey, with elements of Thursday, Saves The Day and especially Brand New at play. Sure, we can dig bands here that sound a little like Jesse Lacey & co. – why else would we be called Already Heard? – and the spirit of 'TDAGARIM' is well and truly captured on this EP's opening gambit, 'I Want To Deafen Your Ears' and 'Windows.' A textured, atmospheric sound underlies Roberts' soaring vocal and introspective lyrics on bombastic opener '…Deafen Your Ears', followed by the mesmerising, hazy waltz of 'Windows,' which dramatically bursts into life with a huge chorus, replete with visceral backing vocals. Sound familiar? These tracks sound like the realisation of the demos leaked prior to the release of 'Devil And God' (unofficially titled 'Fight Off Your Demons' by fans), which is no bad thing.
<a href="http://hampshire2.bandcamp.com/album/two-trains" data-mce-href="http://hampshire2.bandcamp.com/album/two-trains">Two Trains by Hampshire</a>
Things take a slightly more melodious turn on 'Let Down' – punchy, upbeat guitars dominate this number, the lyrics of which revel in being a disappointment – a call to arms for the self-deprecating, if you will. 'Waiting Game' is where this EP really excels, an astonishing slow-burning epic that seems purpose built for stadiums. Channeling all of the best stratosphere-scraping, heart-wringing anthems, this ascends magnificently, before closing out the record on ambient feedback and a spoken-word piece.
The quality level isn't consistent right the way through; "Just Three Boys" is a little more in line with Hampshire's original incarnation; a soporific, Dashboard Confessional aping ballad that simply isn't interesting enough to warrant its length (over 4 minutes) – the aural equivalent of a day trip to Basingstoke. Overall though, Hampshire have the foundations of something pretty special here – their potential will not be fully realised until they find their own voice, but 'Two Trains', for a first record as a "full band", is an impressive start, and one worth paying the princely sum of zilch* for on Bandcamp.
* – Disclaimer: AH encourages you to put money towards "pay-what-you-want" albums, because bands are generally a good thing that deserve money for their art.
3.5/5
'Two Trains' by Hampshire is available now on Bandcamp.
Hampshire links: Facebook|Twitter|Bandcamp|Tumblr
Words by Ollie Connors (@olliexcore)