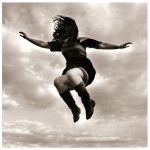 Sometimes when listening to music I wonder how musician's come up with the ideas for a riff, or lyrics, or a drum beat to contribute towards a song. When all the music is produced by one person the idea just becomes mind blowing. This is the case for Multi-instrumentalist Jordan Miller also know as Gypsy Cab Company. His new EP 'Zoetrope' fits somewhere between being dark-indie, dream-pop or just plain creepy.
Even though some of the sounds Gypsy Cab Company produce are rather unusual, you find yourself mesmerized by them and you just want to hear more and more. If you took the catchy parts of Cold Cave, mixed them up with the dreaminess of Bjork and added in a bit of Chelsea Wolfe, then you would have Gypsy Cab Company. In a way you almost feel a bit cheated that 'Zoetrope' is only six tracks long as this EP is just a beautiful work of music from start to finish.
The transitions in tone throughout the EP are also so smooth that on a continual listen the cross from dreamy instrumental tracks to more eerie darkness is seamless. The track 'Bathroom Surgery' basically sums up Gypsy Cab Company in a nut shell with a beautiful relaxing back track being accompanied with the soothing eerie tone of Jordan's voice. A personal favourite is 'Nebulous' as it teases you with its nice easy intro, but then Gypsy Cab Company really shows off his talent with the introduction of distorted guitars, quickly changing into electronic pop beats, proving that 'Zoetrope' is a great all-round record.
For a man that says his influences are Radiohead, Animal Collective and Omar Rodriguez-Lopez to name a few all of these influences come across strongly. What makes 'Zoetrope' even more of a masterpiece is that not only did Jordan writer and play everything you hear, he recorded the whole record himself at his own studio. Making Gypsy Cab Company the true definition of a one man band.
4/5
'Zoetrope' by Gypsy Cab Company is out now on Little League Records.
Gypsy Cab Company links: Facebook|Bandcamp|Twitter|Tumblr
Words by Tim Birkbeck (@Tim_Birkbeck)