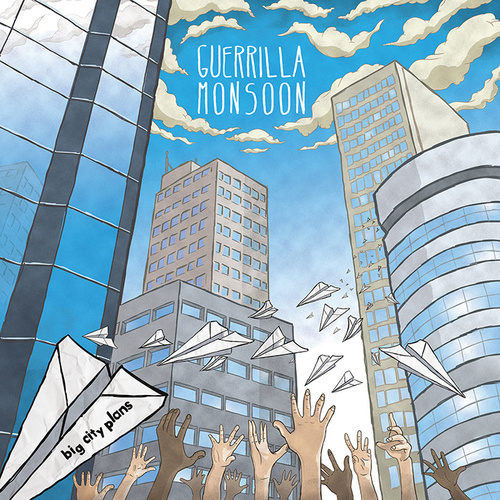 Guerrilla Monsoon are a four piece punk rock band from Birmingham and it's fairly likely their name has hit your radar at some point over the last month. They are a hard-working bunch by all accounts and seem to have the appetite and patience to tour almost constantly; as their Facebook account states "just ask if you want us to play, we'll say yes". Right now their commitment to the cause is paying big dividends as they entertain the Fest crowds in Florida.
'Big City Plans' is an eight track EP which represents the band's first 'big' release following their debut EP and a split with Gameday Regulars which incredibly were both also released this year. It's a strong collection of gruff melodic tracks in a very similar vein to the likes of Banner Pilot, Dear Landlord and Iron Chic – a contemporary and slightly more poppy take on the classic Hot Water Music/No Idea sound.
The EP opens with 'Flock The Nest', which is bursting with tempo and full of exuberance. This is a description very much in keeping with the band's sound on the whole (and also covers their impressive live performances) but lyrically things aren't always quite so full of joy. From this point of view they tend to be more self-depreciating and reflective, as on 'Whisky and Wine' where they muse, "If you are losing your soul and you know it you've got something left to lose."
As you've probably already gathered from my descriptions, they aren't breaking down any boundaries in terms of originality so if you're looking for the next At The Drive-In then you best look elsewhere. But in terms of a really solid specimen of an act so commonplace in the US but painfully and surprisingly lacking these days in our own scene, you could do a hell of a lot worse than Guerrilla Monsoon.
The EP closes with strong final track 'Believers' with its infectious sing-along refrain of "Don't you worry about me – I will always let you down" and you feel that if the band can produce something this strong in such a short period of time, it bodes well for any forthcoming LPs that we hope are around the corner. This is a really worthwhile (and probably very small) investment for a very likable band.
4/5
'Big City Plans' EP by Guerrilla Monsoon is out now on Beach Community (UK) and Paper + Plastick (US)
Guerrilla Monsoon links: Facebook|Twitter|Bandcamp
Words by Alex Phelan (@listen_to_alex)