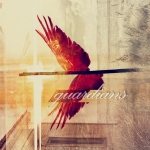 Guardians are yet another exciting band to come storming out of Merseyside; they play an infectious, catchy blend of pop rock. From the intro to the finale, each song is as memorable as the last, full of catchy hooks and anthemic, memorable choruses. It has both the smarts and melody of Jimmy Eat World combined with the all out rock of the Foo Fighters; such a mixture is what makes Guardians just so appealing.
After a brief introduction, Guardians kick off this EP in frenetic style; 'Enemy Of My Enemy' is a hook laden romp, laced with excellent guitar work, and a great chorus that well and truly got stuck in my head. The double pronged assault of this and the pounding 'New World Order' work brilliantly as openers to the Merseyside group's record. The pace slows down with 'Follow Your Heart' which oozes influence from Jimmy Eat World, especially at their most melodic. Guardians have written a really great track here, it builds upon itself to a soaring chorus, it get's a little cliché with the lyric;  "One chance one life to live, follow your hear follow your dreams" but in the context of the song it does work.
'Make It Out Alive' is probably the most danceable track on offer here, it has a sense of groove and a repetitive catchiness to it. I'm sure it will be a welcome addition to most rock night DJ's rosters. We then get a brief respite in the way of a piano led 'Interlude', although harmless, I felt it was unnecessary and didn't bring anything to the record.
The grand finale 'Red Eyes' brings Guardians back to their strongest, with a great riff which hooks you in, before delivering a massive, anthemic chorus to close out this mini album in memorable fashion.
However 'Guardians' does have some downfalls. As previously mentioned, the band's lyrics are a little cliché  and whilst the songs on offer here are good, its nothing that we haven't heard before. Guardians know what they want to sound like, and are unwilling to venture out of their comfort zone; perhaps it would be interesting to listen to them try something a bit more experimental.
Overall, Guardians have showcased themselves well here. they have built a strong foundation that they can continue to build upon. With an already impressive amount of shows under their belts, including some very notable support slots. Guardians will no doubt gain recognition as another British band to keep your eyes open for.
3/5
'Guardians' EP by Guardians is released on 7th January 2013.
Guardians links: Facebook|Twitter
Words by Ryan Clayton (@clayton_ryan)