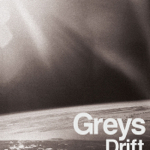 Toronto noise rock outfit Greys bring a punch-in-the-face three song EP ,entitled 'Drift', that delivers as much loud music as possible. This is a crazy, chaotic mish-mash of sound that is a representation of exactly what noise rock is about: turning punk music on its head.
'Carjack' kicks of the EP with a huge wall of sound. Crashing cymbals, screechy guitars, and dirty, growly effects givinh this track intensity. Muffled, 90s-esque scream-y vocals add to the chaos. With little melody, the song still manages to be catchy; with a striking similarity to Jet's 'Do You Wanna Be My Girl'. 
<a href="http://greys.bandcamp.com/album/drift" data-mce-href="http://greys.bandcamp.com/album/drift">Drift by Greys</a>
The next track proves that even though this EP is basically complete chaos, it isn't just loud music for loud music's sake. 'Drift' is organized chaos, with a melody and rhythm working towards something dirty and fun.
'Pill' is the longest song on the EP at five minutes that takes 'Drift' to another level. It builds up relatively slowly, putting layer upon layer of sound at a time.The vocals are a bit more skewed towards singing than the screaming, giving it more of a tamer sound than the other tracks. There's a huge sense of anxiety in this track, with the build up coming with big drums and guitars in the raucous energy that Greys embrace.
It's difficult to hear noise rock and not immediately be thrown back into the 90s. It's a dated-sounding genre that can make it seem a bit stale. However, Greys manage to inject so much fun energy that it comes off sounding fresh. 
'Drift' is a small EP with a big sound. Noise rock isn't for everyone, and it's really easy to write a band like Greys off as a group who just crashes cymbals and screams. There are a lot of things going on; tracks are built with layers of sound that actually come together into songs. Sure, you can't understand any lyrics, but that really isn't the point. This is just pure music with passion and talent behind it, and there's no reason not to give it a try.
4/5
'Drift' by Greys is out now on Kind Of Like Records.
Greys links: Facebook|Twitter|Bandcamp
Words by Jenny Gagas (@Jenny_herself)