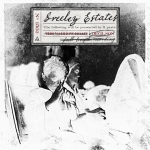 Greeley Estates are an American five-piece metalcore band from Phoenix, Arizona. Originally a more emo genre group that decided to change their sound and pursue metalcore back in 2008. 'Devil Son' is in fact the second part to their previous release 'The Narrow Road', and both albums were released independently without a record label. The EP begins with 'Cut Me Out' which begins with haunting noises and whispered speech, which suddenly smashes into a heavy beat with electrifying screaming vocals and heavy riffs. The song is slow-paced with melodic droning vocals with background screams, and a dark heavy beat. The song is an almost dream like trance, reminding you of a disturbed nightmare starring eerie piano sounds.
This completely changes with the title track 'Devil Son', a short acoustic guitar track. The song screams confusing tearful emotions, with the slow-pace and melodic vocals. The chorus is powerful with the same dark heavy beat used in the previous track. This follows with 'Marionette' another track with a variation in style, with an electrifying fast-pace instrumental introduction. The hit stars more powerful screaming, and horrifying whispers. The track has an awesome melody and a deep base.
<a href="http://greeleyestates.bandcamp.com/album/devil-son" data-mce-href="http://greeleyestates.bandcamp.com/album/devil-son">Devil Son by Greeley Estates</a>
The favourite tune is 'The World You Use To Know', for its fantastic screaming style vocals that work in harmony with the speedy melody. The track stars talented instrumental playing, wish awesome breakdowns. This track is powerful, punchy and showcases the band's true talent.
The EP finishes on 'Turn the Night Away' which has speedy catchy riffs, and the chorus is almost trance like with the soft sweet backing vocals. The melody begins to quicken in time with the lyrics, which leads to screaming vocals and heavy drumming. The song completely changes into the metalcore style, with a heavy beat and sinister deep vocals. The track gradually reels you in then smashes you with a tidal wave of pure aggression on the guitar and drums.
Greeley Estates are a powerful heavy metalcore band who have produced a fantastic EP which truly showcases their talent. 'Devil Son' is a diverse hit, with a wide variety of different style tracks. The entire EP is crammed with innovative smash-hit hardcore tracks that star hard-hitting rhythms, rocky guitar riffs and marvellous instrumentals.
4/5
'Devil Son' EP by Greeley Estates is available now.
Greeley Estates links: Facebook|Twitter|Purevolume|Bandcamp
Words by Chantelle Kelly.