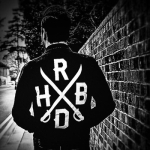 Punk rockers Golden Tanks don't do things in half measures. Their short and sweet EP 'R.D.H.B.' is a blinder, really encapsulating the band's genre and producing an energy fuelled, ballsy set of tracks.
From opener introduction '859' the commotion arises, with punchy riffs, aggressive screams and hard-hitting percussion coming together to create a fierce riot, already confirming that Golden Tanks know exactly what they're doing. This could be said for the whole of the EP, including stand-out title track 'R.D.H.B' which takes on a rock 'n' roll vibe with an infectious rhythm that repeats in sections throughout; a perfect head banger. Closing track 'Fangs' is just as captivating in its own right, reiterating the ferocious side of the band with dark, elongated roars in amongst the trademark vocal structures. The continued energy fuelled rhythms round up into an abrupt ending, leaving a very memorable and admirable mark on the punk rock radar.
<a href="http://goldentanks.bandcamp.com/album/r-d-h-b-ep-2013" data-mce-href="http://goldentanks.bandcamp.com/album/r-d-h-b-ep-2013">R.D.H.B EP (2013) by Golden Tanks</a>
It can only be assumed that Golden Tanks are unsigned out of their own choice, because otherwise it's obscene that they haven't been snatched up already. A fantastically chaotic bunch boasting honest punk rock; quality overrides quantity in this case. This band deserves to go far and if they keep heading in this direction Golden Tanks are well on their way to the path to success.
4/5
'R.D.H.B.' by Golden Tanks is available now on Bandcamp.
Golden Tanks links: Facebook|Twitter|Bandcamp
Words by Hannah Gillicker.