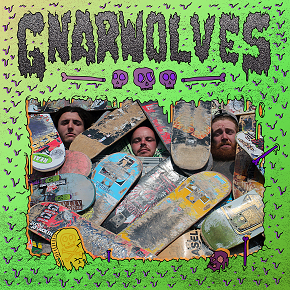 For a band that has garnered a fair share of hype over the last 2 years, the debut full-length effort from Brighton skate punks Gnarwolves could be one of two. It could of been a) a quick rehash of previous material with the odd newbie thrown in good measure or b) a whole set of new songs where the band step their game up. Thankfully 'Gnarwolves' is the latter option.
Although this is the band's first full-length, it still comes in at just under the half hour mark but this isn't a negative. Anyone who has been following the trio's career in recent years wouldn't expect anything else.
Since emerging out of nowhere two years ago, Gnarwolves have grown in popularity, and more importantly, as musicians and songwriters thus making this self-titled effort their strongest release to date. Everything is simply tighter and more cohesive. From the duel vocals between Thom Weeks and Charlie Piper to the bold drum work from Max Weeks.
Kicking off with the blistering 'Prove It', which sees the first of many memorable lines ("all I need is all I have here") and introduces the theme of overcoming the negatives that life delivers. If anything the record takes an introspective approach. 'Boneyard' is led by the line "we make a toast to being lonely because it's better than drinking alone", whilst later on, 'Bottle To Bottle' continues the theme of relying on alcohol to figure out personal issues. Something that I'm sure a majority of 18 – 30 year olds can relate too.
Despite the somewhat negative lyrical approach, it's the band's sheer rawness and upbeat sound that gives the record a much needed positive shine. Sure 'Smoking Kills' and 'Hate Me (Don't Stand Still)' are lyrically bitter but musically they're rewarding especially the latter. With it's refrained middle and winding guitars, it allows Gnarwolves to show their versatility.
The same can be said for 'Ebb'; simple guitar chords and slow-paced drums build up to a bouncing chorus that eventually gives way to 'Flow'. A punchy penultimate track that highlights the bands tight musicianship.
The final track, 'Eat Dynamite, Kid', sees the trio come full circle with a quick blast of skate punk that reminds us why we fell for Gnarwolves in the first place. Whilst a hidden track ends the record on a hard edge with thrash guitars, pummelling drums and the band screaming "skate to hell!" at the top of their lungs.
So have Gnarwolves delivered a full-length that backs their reputation? Yes they certainly have. Sure it's not going to be a game changer, but the trio have made a statement of intent with this self-titled effort. It shows growth as a band and shows Gnarwolves in 2014 are in a great position, one where they have laid a fun and raw foundation for future releases. 'Gnarwolves' takes all what we loved about them from their previous EPs and simply makes them a more cohesive unit leading to a rewarding full-length. It's simply straight to the point punk that is fun, raw and catchy yet sincere.
4/5
'Gnarwolves' by Gnarwolves is out now on Big Scary Monsters and Tangled Talk Records.
Gnarwolves links: Facebook|Twitter|Website
Words by Sean Reid (@SeanReid86)