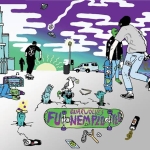 It's getting harder and harder for me to keep writing about Gnarwolves. This Brighton trio is, for me at least, far and away the best band in the UK right now. So long as tracks like 'Melody Has Big Plans' keep cropping up somewhere between the most infuriatingly catchy and beefiest tracks out there, everyone else has some catching up to do.
'Funemployed' is four tracks all in the same wonderful vein. If you've caught Gnarwolves live over the last couple of months – and let's be honest, you've either seen them or you've not left the house – you'll know these songs when they come on. They're just that good; once you've heard them you'll take them to your grave. Both 'Melody Has Big Plans' and 'Limerance' have been knocking around on the Internet for a little while now, creating a much-deserved buzz for this EP. When the balladic intro to 'Limerance' falls away and suddenly becomes a powerhouse pop punk song you'll think it's all there. Cue one of the sickest choruses you'll hear all year: "Woah-oh, Woah-oh!"
At Slam Dunk last month, everyone seemed to know the chorus to 'Tongue Surfer' despite it having not been released yet and 'High on a Wire' is just as good; fast, melodic, and with unstoppable energy it's the fourth in a quartet of brilliant songs.
This is an EP that your summer needs. If you're lucky enough to live somewhere where summer means sun then roll down the windows and bang this on. If you're from the UK, where summer generally means nothing new for the weather, Gnarwolves are here to remind you not to give a fuck about it and to have a sweet time anyway. This is a top band at the top of their game – don't miss out.
5/5
'Funemployed' by Gnarwolves is available now on Big Scary Monsters / Tangled Talk.
Gnarwolves links: Official Website|Facebook|Twitter|Tumblr
Words by Tom Knott (@nounandthenouns)