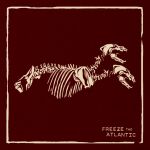 My knowledge on Farmborough based alt rockers Freeze the Atlantic is limited to knowing that they feature Andy Gilmour of Hundred Reasons and Guy Davis, formerly of Reuben. Also bolstering their ranks is Tom Stevens (Archie & the Instincts), Liv Puente (Laruso) and Sean Shreeve (Spectrum 7). I haven't listened to their previous output up to this point in their career, so I am going in with a fresh mind on reviewing their sophomore self-titled LP. Yet, as unfair as it may sound, I had a presumption as to what they sound like, primarily based on their previous/other projects. Having listened to this record, my predictions ring true, but are not accompanied by disappointment. Instead, I feel my answers have been granted with a solid body of work.
To clarify, the band takes on post hardcore meets alt rock stylings like their previous projects. Helmet like rhythms chug in the beefy parts, moulding nicely with the right dose of melody, quite similar to the technique used by 90s legends Hum, without the atmospheric feel. On the other hand, I would describe it as having all the charm of Weezer, along with the stadium ambition of Pearl Jam. It's simply a solid rock album, harkening back to the early 2000s, when the members' early projects reigned. Yet, it would be unfair for me to continually compare them to the past. Striving for glory is what Freeze the Atlantic do here with their anthems. What's that? Oh, you want examples to prove this record's worth eh? Well, I shall do that.
The likes of 'Hectares' and 'The Last Great Train Robbery' boot and stomp in good old fist pumping fashion, whilst 'Stompbox' yellingly rips  in verse and latches one in catchy chorus. A triple bonafide highlight can be found in 'Occams Razor', 'Bound' and 'Tusen Takk', all of which soars in melody, heart pumping riffs and a throbbing bass rhythm to head bang to. Kudos certainly goes to the foundation of these songs a la the drums; the holster to the anthemic pistols. Meanwhile, 'You Drove Me to Taxidermy' harkens to a song structure that a 'Clarity' era Jimmy Eat World fan would identify and appreciate, with added chiming bells and strain in vocal yells and whispers. Through all the rocking on the boat by the storm, the band does calm the waves as found on the quietest track on the LP, 'Everything All the Time'.
Before I conclude, you may be thinking that all the praise warrants in a 4 or higher mark of 5, yet I'm afraid not. Perhaps it's me, but although I find this a solid offering from Freeze the Atlantic, I don't think it reaches the perfect mark. Maybe it'll grow on me further, who knows. All in all, this self-titled album from the quintet has the right ambition needed for a contemporary rock outfit. It aims to soar past the mountains, an admirable quality indeed.
3.5/5
'Freeze the Atlantic' by Freeze the Atlantic is out now on Alcopop! Records.
Freeze the Atlantic links: Facebook|Website|Twitter
Words by Aaron Lohan (@ooran_loohan)