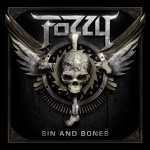 I've always avoided Fozzy based on the assumption that as the side-project of WWE wrestler Chris Jericho, it would be an ego trip of epic proportions. This is often the case with wrestler's side projects (The "acting" of Stone Cold Steve Austin in recent movie The Condemned  has ruined many a fond childhood memory) and I didn't see what would be much different with Fozzy and their new album 'Sin And Bones.' However it must be noted that Fozzy have paid their dues in the metal scene and have some genuine achievements to be proud of; playing with "The Big 4" at Sonisphere is no mean feat.
The bizarre opening didn't do much to appease my scepticism however as children's nursery rhyme 'Itsy Bitsy Spider' is given a genuinely horrifying but not for the intended reason, prog-metal twist before the opening track 'Spider In My Mouth.' This track is not, as you may suspect, a re-working of 'I Know an Old Lady Who Swallowed a Fly' but a powerful and compelling hard rock romp with somewhat weak lyrics.
Next is 'Sandpaper,' the lead track and "hit" of the record which features M. Shadows of Avenged Sevenfold fame. It's pretty catchy in places and there is definitely an appeal to the raspy vocals of Chris Jericho and the thrash-influenced guitar of Rich Ward.
'Blood Happens' is a heavier, thrash-like track with a screamed chorus. The song almost sounds like Metallica, albeit a second rate Metallica that might exist if James Hetfield had taken too many chair shots. 'Inside My Head' also channels the spirit of a brain-dead Metallica at their most melodic and as such is more of a heavy ballad in the style of 'Nothing Else Matters.'
The rest of the album is characterised by a mostly unremarkable copy-and-paste affair of the first half; soaring hard rock bravado mixed with more tender yet somehow still macho moments of balladry. It's uninspired and formulaic stuff but generally listenable.
This isn't the most intelligent music in the world, especially lyrically, but there is some merit in the hard rock sounds that Fozzy pedal. You've also got to give credit to Chris Jericho for being able to make music based on the amount of times he's been dropped on his head over his career. This is a decent little hard rock album with hints of thrash about it and will undoubtedly entertain fans of the genre. It's harder-hitting than a superplex and more brutal than The Walls of Jericho, but no classic.
2.5/5
'Sin And Bones' by Fozzy is out now on Century Media.
Words by Tom White (@whiteywitters)