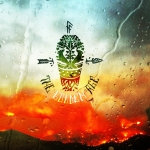 If you remember the name Josh Lyford, your first thought may be of the keyboardist who was once part of the summery, pop-punk group Four Year Strong. However, I suggest you banish all thoughts of any sweet sing-a-longs and bouncy choruses because Josh is back with his new hardcore band Foxfires, and their new EP 'The Golden Age'.
Clocking in at just less than ten minutes, 'The Golden Age' is choc-full of frantic riffs, as opening track 'One Coin' demonstrates, with its blistering adrenaline merged with raspy vocals before kicking into 'It Was A Journey'.
Breakneck drumming in 'Black, White Birch' ups the tempo, and is definitely one that will be kick-starting moshpits. 'Gravity Is Honesty' and 'Good Fences', the two longest tracks of the EP, throw hypersonic riffs and guttural vocals together – an excellent mix that's so powerful, it feels like a foot's been taken to the face.
Signing off with 'Nostrum', another blinding track that goes out with a bang, not a fizzle, Foxfires have produced a rather stellar EP. 'The Golden Age' is nothing brilliant or new, but it's a solid set of hardcore that will definitely please people. See you in the pit!
3.5/5
'The Golden Age' by Foxfires will be released on 5th March via Escapist Records.
Foxfires links: Facebook|Twitter|Bandcamp|BigCartel
Words by Jess Tagliani (@JessTagliani)