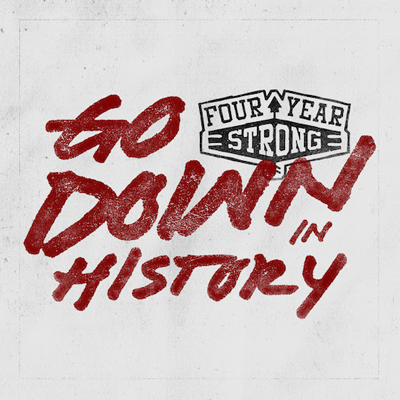 Four Year Strong are back. After the disastrous misstep that was 'In Some Way Shape or Form',  in which Four Year Strong cut ties with their pop-punk roots in favour of a more radio rock sound, the band were left at a loose end. 
Fortunately they've resolved this by returning back to basics, and 'Go Down in History' has enough energy across its five tracks to reassure fans that the band have returned to form.  Starting with a bang, they declare, "It's time to set the record straight and hope we don't fade out", following this with the infectiously catchy chorus of "if you try and take me out, you best break all my bones", it's fun and memorable, with all the sing-along capabilities of a track off 'Enemy of the World'.
With themes such as sticking around, not giving up and resurrection pervading the five tracks, it's clear that Four Year Strong are savvy, indirectly answering fans about their misdirection. While 'Go Down in History' has back to back solid tracks, Four Year Strong certainly haven't improved their lyrics. TS Eliot they aren't, and they seemingly jam rhyming words in for rhythm purposes, regardless of whether they make sense – "move your hands back and forth in perfect symmetry and live like a time bomb, that doesn't have long", may sparkle when set to a catchy beat, but it doesn't stand up to too much inspection.
While bands such as The Wonder Years and A Day to Remember have grown up, progressed and matured, Four Year Strong are sticking to anthemic, aggressive pop punk and in this instance that's by no means a bad thing. Over too fast, but giving a taste of what's to come, Four Year Strong are back to blow the rest of the pop-punk bandwagon away.
4/5
'Go Down in History' by Four Year Strong is out now on Pure Noise Records.
Four Year Strong links: Website|Twitter|Facebook
Words by Jay Sullivan