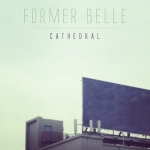 Philadelphia-based indie folk rockers Former Belle have risen from basement recordings to touring regularly, and their debut full-length release 'Cathedral' strives to encapsulate their live sound. With bright acoustics and emotional lyrics, Former Belle is simply lovely.
What will strike you immediately, unless you weren't listening to indie music in the early 00's, is lead singer Bruno Catrambone's striking vocal similarity to Conor Oberst of Bright Eyes fame. Their voices are so similar it is almost unbelievable, but in the best way, as if Oberst was reincarnated with a slightly better voice. 'Sometimes You're A Ghost' is all about Catrambone's voice, highlighting the imperfectness of the inflections, emotions, and honesty that flows through the album.
<a href="http://formerbelle.bandcamp.com/album/cathedral" data-mce-href="http://formerbelle.bandcamp.com/album/cathedral">Cathedral by Former Belle</a>
Besides the freaky vocal doppelganger, this is a great version of the indie folk that is so popular right now. There is simplicity to the whole of 'Cathedral', and it manages to throw you back to a simpler time, no accordion, triangle, tambourine, or clapping necessary.
This simplicity is highlighted by the acoustic guitars and very light percussion that define this album. 'Not the Time' has a light, sparkling quality with the guitars and delicate drums and cymbals that give the song just the right emotion. 'I Was Waiting For You' brings a strong melody with perfectly played folk-y guitars and simple, honest lyrics, like "I used to waste my time all alone, it's true. Now I waste it with you, I wanna waste it with you."
Even though this album is heavy on acoustic guitars, each song is very unique. Some are a bit melancholy with vintage touches, like 'Mister Wonderful', which plays around with staccato bursts of intense vocals and drums. 'Shouldn't Love' is bright and fun, with a faster pace and upbeat vocals with dramatic touches that just make the song better as it goes on. All the songs hinge on special elements that make them stand out while maintaining a coherent sound.
Essentially, Former Belle has crafted the perfect indie folk album. The raw sound, sensitive vocals, catchy guitar melodies, and a minimalist approach to all of the above makes this an instantly likeable album that swells with emotion and talent. It is a throwback to simple music: clean, unadulterated music that is uncluttered by effects and superfluous instruments. The results are brilliant, pretty, and somehow unique. They prove that all you need for successful indie folk are a few guitars and a few friends to make it work.
4.5/5
'Cathedral' by Former Belle is available now.
Former Belle links: Official Website|Facebook|Twitter|Bandcamp
Words by Jenny Gagas