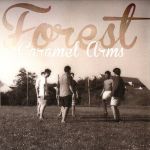 From the quaint town of Cambridge, FOREST have created an EP which reflects this mood perfectly. Combining a mixture of Indie rock and shoegaze with dashes of pop to boot, there is a lot going on in the 4 tracks present which shows a passion for which can be nothing but respected.
This being the second EP of the year for FOREST, the young group has shown vast amounts of experimentation throughout which goes to show an understanding and appreciation for music which simply isn't recognised enough now.
Opening with 'Coaster', twanging guitars and under threaded drumbeats push forward into vocal harmonies which all blend beautifully into the strongest track on 'Caramel Arms'.  'Warm Tyres' showcases the heaviest shoegaze use with perpetual warmth emitting from the guitars giving a constant motion all the way through into the last track 'Oh' which brings more lo-fi fuzzy vibes which rounds up the short trip 'Caramel Arms' takes us on.

The one thing the EP crafts well is a clear-cut beginning to end, considering a running time of 15 minutes this is remarkable achievement. Once FOREST have found their sound and matured a full release will see the boys getting the recognition they deserve.
Even though there wasn't a personal connection with this EP it was still inconceivably well made and posses a multilayered experience which fewer bands seem to be able to reproduce. This band is definitely one to watch out for.
3/5
'Caramel Arms' by FOREST is out now.
FOREST links: Facebook|Twitter|Website
Words by Grant Fullick