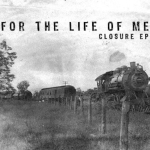 Forming as four friends with varied musical backgrounds and having to deal with member changes, For The Life Of Me make a mark with their debut EP 'Closure'. The varied influences are evident, taking the member's backgrounds and twisting them together to create a fresh rock sound.
Kicking off the EP is single 'Eleven', a quirky, mid-paced rock offering that welcomes the high-range vocals of Lee Parks whose vocal structures range perfectly; hitting strong, power driven notes in just the right places. Backed with a fairly steady percussion throughout, the track is subtly energetic with upbeat guitar strums foreground in sections, along with some infectious melodies dotted within the track; certainly single worthy.
'TV In My Head, Part II' follows a similar pattern to 'Eleven' and executes Parks' distinct strong vocals along with the quirky riffs that preceded. Calming the tone mid-way through the track, 'TV In My Head, Part II' reveals peaceful melodies that repeat but don't get too repetitive, turning the track into an instrumental; admittedly dragged out slightly, but then drawing to a close with the welcome return of vocals.
Tracks 'Winter Sleep' and 'Sung Out Of The Blue' make up the second half of the EP; 'Winter Sleep' initially seems to lack in energy but the vocals shine, then kicking into an upbeat rhythm which brings the track back to life, continuing this to an abrupt end. 'Sung Out Of The Blue' features low-range vocals in its opening, not working as well as the powerful notes usually hit by Parks but proving that his range varies, adding substance to the EP. Deficient of the liveliness of the second half of 'Winter Sleep', the track isn't as strong as its precedents but nonetheless makes for a commendable rock song.
For The Life Of Me have produced a debut EP that is  certainly admirable; most bands lack in quality with their first release but this certainly isn't the case for this quartet, who have produced a strong set of tracks to piece together this debut. Good work from this rock outfit and it is promising to think that their next release will prove the same!
3.5/5
'Closure' EP by For The Life Of Me is out on the 26th March.
For The Life Of Me links: Website|Facebook|Twitter
Words by Hannah Gillicker (@HannahGillicker)