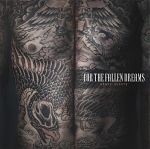 Despite it being almost two years since their last release, For The Fallen Dreams have not missed a step returning with one of the most brutal records I have heard in 2014 so far.
Straight from the off 'Heavy Hearts' gets underway with a bang. The opening guitar riff and scream from vocalist Chad Ruhlig on 'Emerald Blue' sets the tone for the rest of the album. It is just balls out brutal, filled with great riffs, insane drum fills and one of the best voices in metalcore at the moment.
Even though this is For The Fallen Dreams' fifth full length record, there isn't a whole lot of progression. The band are clearly fans of the saying 'If it isn't broke, why fix it', and it is this tired and tested method that makes them such an incredible band to listen to.
In a genre which is so saturated with mediocrity, For The Fallen Dreams are definitely one of the few stand out bands and 'Heavy Hearts' is just proof of this. The band even give a nod in the direction of the fans who have been with them from the beginning in the form of 'Dream Eater', with the lyrics, "so the story continues I'm aware of what I've done, to many simple things have soiled all the things I believe. And as the years go by I'm tested what I will be, will I stand the test of time or will it make a better man of me", showing how the band has come full circle, and how vocalist Chad Ruhlig has taken his rightful place back as front man of For The Fallen Dreams.
It is hard to choose a stand out song on this record, which is usually something quite easily done with For The Fallen Dreams' records, but it appears with 'Heavy Hearts', they have truly hit the nail on the head. Along with 'Dream Eater', 'Bombay','Endless' and 'Unfinished Business' are all tracks that make you want to bang your head and shred an air guitar.
It may have been a two year wait for new material from For The Fallen Dreams, but you can argue that it was as if the band were never way since the release of flagship record 'Relentless'.  
4/5
'Heavy Hearts' by For The Fallen Dreams is out now on Rise Records.
For The Fallen Dreams links: Facebook|Twitter
Words by Tim Birkbeck (@Tim_birkbeck)