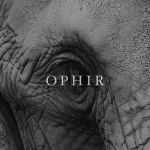 For a band that have only been on the scene since January of 2013 F.O.E.S. (Fall Of Every Sparrows) are making a bold and encouraging statement within the form of the new 'Ophir' EP. Hailing from Liverpool, the quartet rose from the ashes of some previously applauded bands from the Merseyside scene and collected under this new banner to quick success, already able to boast previous and upcoming support and opening slots for the likes of 36 Crazyfists, Hactivist, and Oceanscene to name but a few. Not bad for less than 12 months work, lets be honest.
Comprising of 5 tracks, 'Ophir' is a solid offering showing an impressive level of untapped potential. Opening with 'Sewn to the Sail & Unknown', an open and dynamic track with some clever guitar work, both ambient and a little more in-your-face, it sets the tone for the rest of the release. It's refreshing to hear a real accent on this release that hasn't been twisted to settle in with the rest of the crowd, and I'm glad it carries through. A bit of character goes a long way in what is frankly a pretty crowded genre to be in, so two thumbs-up from me there. Some out-of-the-box drumming and solid bass work is great to hear too, and it adds well to the melody laid down by the guitars.
Up next is 'The Writing on the Wall', who's opening riff is up and in your face from the off, which I love not only because it lets you know it's there as soon as audibly possible, but that it also drips of early Funeral for a Friend and its nice to hear what I hope is a bit of a nod to one of this genres forefathers. Using the classic combination of a gentle verse that builds bit-by-bit to a full on in-your-face chorus led out by bridges that kick you in the teeth, this is one of my favourites from this offering.
'Ningyo' is in my opinion, a bit of a marmite track. I've got to be honest and say its the weakest track of the EP for me (controversial, given that this is a single), which is a shame because its got some of the more imaginative and compelling drumming on the album for me. It just doesn't quite…click. The opening feels a little out of place with the rest of the release, although its beautifully melodic and marries well into a riotous chorus and send verse. This might seem like I'm being a bit harsh, but I'm judging this by the rest of the release. And also, just because I'm not keen doesn't mean the rest of you won't. It's an appealing track, it's just lacking some cohesion in the release, for me.
'Four of Oxblood' brings you back with 3 stick clicks and a furious sounding opening riff with some real urgency. More lashings of ambient, ricocheting guitar and a solid rhythm section take you into the bulk of the song and keep you running alongside the lyrics which produce some good imagery throughout. And for a moment I thought my ears deceived me with some screaming, but low and behold there it was. Something which I am all for and something I think should be used more. Be brave boys! Don't bury it in the mix, bring it up and let it be heard, it works! My favourite track.
Finally, leading the EP out is 'The First Rook to Flee as the Thunder Rolls In'. Combining all the elements that make this release so special, it is a showcase track for the band, with what by now have become trademark rising, ambient and brash lead guitar work combined with solid rhythm work and melodic, cleverly intricate drums and a singer that maintains his accent which is a proud move which I'm behind. Not every band in the world should sound like they have a characterless vocalist.
We're not re-inventing the wheel here, but that's not to say this isn't a great offering. There are some solid tracks on this EP, the boys just need to be a little braver and stamp their mark on the tracks. Bringing that early noughties melodic riff work to their tracks will bring an underused edge to the tracks and help them stand out against what is unfortunately becoming a pretty overcrowded place to be musically. Typically this EP is front loaded and tapers off towards the end, rising back up with the closing track 'The First Rook to Flee as the Thunder Rolls In', which is a shame, because this is a band with a massive amount of potential which has clearly been noticed through support slots with bands like 36 Crazyfists, My Vitriol and Oceansize as well as comparisons to trend setters like Circa Survive and Deftones, and a little bravery with a regressive edge could push this band on to the next stage.
3.5/5
'Ophir E.P.' by F.O.E.S. is released on 10th February.
F.O.E.S. links: Facebook|Twitter
Words by Luke Crook (@paisleysoul)