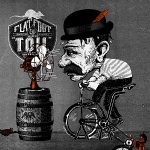 Chicago's Flatfoot 56 have been treating the world to their music for over a decade. With numerous releases previous to their new efforts 'Toil,' the quintet have taken it in their stride to produce a very promising record.
After an initial listening of 'Toil' it is point blank obvious that Flatfoot 56 have been in the game for twelve years; their sound is so mature, but don't take this as a criticism. Their maturity is in the professionalism that shines through this album, from the smooth transitions and the commendable song writing.
Described as Celtic punk, this couldn't have fit more precisely with an opener of bagpipes in first track 'Brother, Brother' that swiftly kicks into chaotic, lively punk riffs. Not quite what I expected but excellent nonetheless.
With memorable choruses and group vocals that will stick in your head for days, 'I Believe It' makes for a definite hit and possibly a favourite on the record. It's a track full of energy and positivity, similar to all of the tracks on the record; but its bold opening sets it apart for me, in particular the very noticeable folk sounds of the mandolin.
Flatfoot 56 executes the folk-punk combination to a tee: the two genres works exceptionally well together when mastered successfully, as the quintet prove. A classic example of this is 'Work For Them' that takes fast paced punk and group chants  and mixes them with mandolin in sections, producing a captivating fusion of the two genres.  
 What makes Flatfoot 56 so admirable is their ability to write such a technical record that mixes so many different instruments and elements at the same time. What makes them even more admirable is that they do this without making the record sound all over the place. If they can perform these tracks live sounding as tight as they do on the recording then I'm buying a ticket.   
If you're looking for a fun, uplifting record then you're heading in the right direction with Flatfoot 56's 'Toil.' Their positivity would brighten up anybody's day and their folk inspired sounds make for a great summer listen. For an individual who usually listens to metal the quintet has certainly won me over with this record.  
2/5
'Toil' by Flatfoot 56 is out now on Paper & Plastick.
Flatfoot 56 links: Website|Facebook|Twitter
Words by Hannah Gillicker (@HannahGillicker)