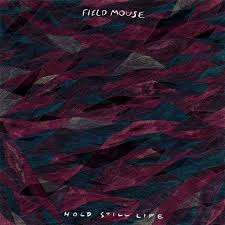 There's something about certain movie soundtracks that sometimes stick in your head, and get in under your skin. What self respecting music fan hasn't decided the soundtrack to those big moments in their life? Who hasn't wanted their say anything moment? Brooklyn residents Field Mouse's First full length 'Hold Still Life' has that feeling of movie moments being channeled throughout, whilst covering the subjects of a modern 20-something's confused brain.
The dreamy shimmer of opener 'A Place You Remember in a Dream' feels like an overly upbeat off cut from the virgin suicides soundtrack, light and floaty guitars and keyboards purr like a fuzzy memory of a summer day. Another highlight is rougher indie pop that inspires and reminds one of Metric's Emily Haines vocally in 'Horizon City', which feels like it should accompany a wild child coming of age film, a bit punk rock and grunge tinged garage rock sounding backed up with the girl group backing vocals. The first single 'Two Ships' has the air of an 80's bratpack soundtrack (think Simple Minds but without the soaring anthemic shouts). With guitars rippling away like sails throughout and a sultry, cool vocal that has more than an air of the new romantics about it, it's a treat, and while it doesn't quite have the killer hook you might want, the synthy keyboards reach some nice heights with the breakdown.
There are a few dud moments though in the later bits of the album, with a few tracks that could easily have been omitted or relegated to the B-sides. 'Bright Lights' may keep those nice vocal harmonies making things work with some downbeat tonal guitar, but the overall feel of the track is fairly dull. Closer 'Water in the Valley' as well, with it's Interpol-esque guitar sound, but with a bit more of a laid back approach to it, fails to really grab any attention from me until the scuzzy breakdown wakes anyone who might have fallen asleep during the previous three minutes. It's a token attempt to make a bit of noise and it misses the mark.
There's some engaging tracks to be found on 'Hold Still Life', and a strong beating heart which some of us could easily identify with in the lyrics. There's a range of pop style on display and some lovely tracks, which definitely make up for the less interesting ones. This doesn't smash it out the park, but it does have some solid hooky tracks that are really enjoyable, and the more upbeat garage rock tracks on this are definitely worth a listen. It's less of a box office smash than a sleeper hit, but hopefully they've got more in the tank for a more focused sequel.
3.5/5
'Hold Still Life' by Field Mouse is out now on Topshelf Records.
Field Mouse links: Website|Facebook|Twitter
Words by Heather Robertson (@thecuriosity)