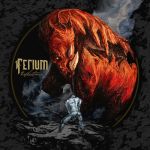 Israel isn't the place that one instantly associates with aggressive, fast paced death metal, but Ferium are keen to change that with the release of their new album 'Reflections'. With the band's background in an area of the country which has seen more than its fair share of conflict, they've got plenty of experience to draw upon when writing songs about pain, loss and anger. They do so with gusto. This debut has taken its time.
They may call it death metal here, but they've cherry picked styles from hardcore and grind added to the mix, as well as drawing on their more recognisable roots as a Pantera covers band. The vocals never threaten to be anything like a songbird; instead we're given deep, harsh and guttural tones from a bullfrog to growling like an angry wolf. 'By The Book' has the vocals sound of burping bog mixed with growling of deep monster noises against a back drop of fast and fairly technical metal, which is an impressive introduction to the band, while 'Side Effects' goes and smashes some of that by sounding quite like a grind-hardcore hybrid. Tracks like 'Business on Demand', meanwhile, chug away with a buzzing that seems regimented until the breakdown hits, and the vocals and guitars get license to run amok. There are moments of deceptive calm and beauty, like the slightly overdramatic but enjoyable instrumental 'The Black Eyes'. This track shows the band can take a step back from throwing everything into the mix, which is something they otherwise seem to be big fans of. I find it a bit too full on, but there are good moments and there is meat to get your teeth into.
While there's some great technical guitar on show, which bodes well for them, I feel the whole effect is that of throwing all you've got at the wall in the hopes that something sticks to it. Unfortunately, whilst the result is that there's a lot of good turns, there aren't many tracks that grab your attention with a strong hook. I'd like to hope there's more in the tank for another record that is a bit more focused.
3/5
'Reflections' by Ferium is available now through Transcend Music.
Ferium links: Facebook|Twitter|Bandcamp
words by Heather Robertson (@thecuriosity)